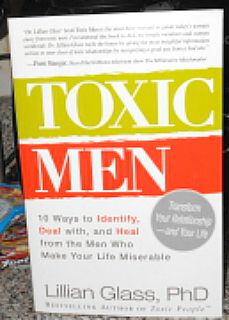 Today's book review is on a book called "Toxic Men" by author Lillian Glass, PhD, the bestselling author of "Toxic People". This  book gives you 10 ways to identify, deal with, and heal from the men who make your life miserable. The ISBN: 978-1-4405-3167-5 and the book is classified as a Self Help/Relationship book.
Book Synopsis: Toxic relationships can involve men of all shapes, sizes and dysfunctions. In Toxic Men, bestselling author & body language and communication expert Dr. Lillian Glass shows you how to identify, effectively handle and heal from men who make you miserable.
From the Sneaky, Passive-Agressive, Silent but Deadly Erupting Volcano to the Instigating, Backstabbing Meddler, Dr. Glass offers ten practical ways to deal with every type of Toxic Man. Her psychologically sound, practical strategies provide a range of solutions for dealing with a Toxic Man.
For each toxic situation you that you find yourself trapped in with your relationship, Dr. Glass provides you with answers you need in order to discover the Nontoxic Man capable of maintaining a healthy, supportive and loving relationship.
Book Review: My mother is single and looking/dating for Mr. Right so I gave this book to her to read. A week later she brought the book back to me as she completely read the book from cover to cover within 6 days. The book is broken down into 5 parts with a total of 18 chapters. She said the book is an extremely easy read and that all of the advice that Dr. Glass gives you in the book is "spot on" correct. She really loved the first chapter called "What is a Toxic Man" and told me that she never realized the "signs" and that men can be toxic to a relationship in way too many ways to count. I guess I am very fortunate as my husband is fabulous and we have been married for almost 27 years.
The five parts in the book are: (1) Everything You Need to Know about Toxic Men (2) Why You? (3) Sizing Up a Toxic Man (4) How to Deal with a Toxic Man (5) Healing from a Toxic Man.
Mom said the book is a very easy read, flows nicely from start to finish and that she completely agreed with the Author's assement and advice. She said she now knows what to "NOT look for in a man" and how to "deal" with a toxic man should she encounter one again! Ha!
Purchasing info: You can purchase "Toxic Men 10 Ways to Identify, Deal with, and Heal from Men Who Make Your Life Miserable" by Dr. Lillian Glass, PhD from Adams Media Bookstore. The book will be available for purchase staring today (March 18th, 2012).
* This post contains affiliate links. If you make a purchase, we may or may not receive a small commission which helps to support this site. Thank you!
We would like to thank the author and the PR company that we work with for sending us the book for this review. Awesome book and a must read for those of you who are in or were in a toxic relationship!
Disclaimer: Shelly has personally reviewed the product listed above. Shelly has not received any monetary compensation for her review. Shelly did receive a free product to try out so she could evaluate and use it for her review. Her thoughts & opinions in this review are unbiased & honest and your opinions may differ. The Two Classy Chics are not responsible for delivery/shipping of giveaway items won from this blog nor are we responsible for mis-use or injury caused by items won from the TCC Blog. Copyright 2010-2012, All Rights Reserved.