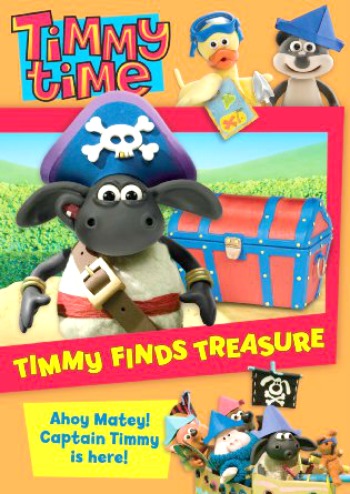 Dig in to a trove of good, wholesome fun with this brand new DVD called "Timmy Time: Timmy Finds Treasure" from Lionsgate and HIT Entertainment available on March 13th, 2012.
DVD Synopsis: Ahoy! There's LOOTs of fun to be had with Timmy and his mateys in this collection of woolly tales! Timmy practices his pirate captain skills, accidentally leading his crew to special treasure. There's mis-arrdventure on the hunt for treasure and the crew must get creative to get back on course. Then when Timmy sets sail, he and his friends cause chaos on the seas. Join Timmy for some swashbuckling fun and see that good mateys are the best treasure of all.
This DVD includes the following 5 episodes:
* Timmy Finds Treasure
* Timmy's Treasure Hunt
* Timmy's Tractor
* Timmy Makes A Splash
* Timmy's Spring Surprise
DVD Bonus Features: (1) Timmy's Day of the Week Video and (2) Shaun the Sheep Bonus Episodes: Spring Lamp Series, 2 episodes.
Our Review: Our almost 3 year old loves Timmy Time so we were super excited to see this brand new DVD arrive in our mailbox a few days ago. This DVD has 5 fun episodes on it with an approximate total running time of 45 minutes in length. I think these short episodes are the perfect length for preschoolers like the grand-wee-one.
We sat down and watched all 5 episodes with her and out of the 5 we watched, I would say that "Timmy Finds Treasure" was her favorite one. (she has repeatedly made us watch that particular episode over and over!). What we love about the Timmy Time programming is that it is right on par with her age group (ages 2-5 years) and all of the stories are fun, cheerful and educational in nature. It was fun to watch Timmy go on his "pirate" and "treasure" adventures with all of his friends and we enjoyed all of the story lines in each of the 5 episodes.
Out of all of the Timmy Time DVD's that we have reviewed for you all the past 2 years…I would have to say that this particular Timmy Time DVD is our favorite from this series. It would make an excellent Birthday Gift, Anytime Gift or purchase a few and put them in your child's Easter Basket later next month. You can purchase the Timmy Time DVDs from Amazon.com.
Giveaway: One lucky winner is going to win the "Timmy Time: Timmy Finds Treasure" DVD. Value of Prize $14.98.
CONTEST CLOSED
I would like to thank HIT Entertainment & the PR Co. that we work with for sending me the product(s) to review for all of you!
Disclaimer: Shelly Hill has personally reviewed the product listed above. Shelly has not received any monetary compensation for her review. Shelly did receive a free product to try out so she could evaluate and use it for her review. Her thoughts & opinions in this review are unbiased & honest and your opinions may differ. Two Classy Chics is not responsible for delivery of any giveaway items won from this blog. We are not responsible for injury or mis-use of any products won from the Two Classy Chics Blog. Please read our Terms of Service & Disclaimer Policy before entering our giveaways. Thanks!