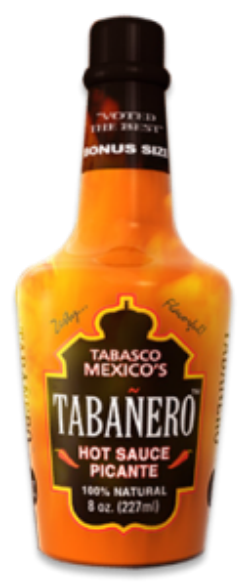 I love spicy foods. Not the burn a hole in your esophagus kind, but nice and smooth with some decent heat. I also love Mexican food. It is one of my favorites when it comes to a nice spicy heat. Yummm I am super excited to being to you a relatively new product that is a 100% natural hot sauce. I think you will enjoy this!
Tabanero is Your Healthy Heat! 100% Natural Hot Sauce Picante and is Flavorful and Zesty and sure to spice up any dish! I know with all of the hundreds and thousands of hot sauces out there, it can be difficult to find something unique that is not smoking hot! I have not bought a hot sauce before because I was concerned it would be too much. So here is what you get with Tabanero.
They are committed to using only the freshest all natural ingredients to create a 100% natural hot sauce that is the perfect blend of flavor, heat and consistency. Their all natural hot sauce has no cheap fillers such as water or vinegar; so each bottle is packed with real ingredients that you can actually see and more importantly taste. Tangy with a hint of sweetness from the agave nectar, mixed with the perfect amount of heat, spices up your dish without over powering it.
Tabanero's delicate balance of spice and flavor provides a "kick" but does not burn or overshadow your dish.
Ingredients include:
Select Habanero & Tabasco Mexican Peppers
Carrots
Onions
Key Lime Juice
Agave Nectar
Garlic
Salt
Grapefruit Seed Extract
I was sent a lovely package of 2 bottles of this hot sauce to sample for you. When I opened it, I knew it was something different than the many others I have had in the past. The scent alone will tell you that. This sauce is all about the flavor and not so much about the heat. Although it does have some heat to it, you taste it the ingredients first and the heat comes in the background.
This is a delicious sauce and everyone in my family has enjoyed it. It is tangy and a bit sweet and just delicious! My son's friend that hangs out at my house almost every day is in love with this product. She is of Mexican decent and it reminds her of a jalapeno sauce she and her sisters would eat as children. She smiles every time we talk about Tabanero. I think this is one that will remain in my home always. I think I will need to open an account at Tabanero to buy it wholesale LOL
The Giveaway:
2 lucky winners will win 2 bottles each of the amazing hot sauce! Here is how you can enter.
CONTEST CLOSED
Disclaimer: Please read our Official Rules before entering this giveaway. Chris Carroll has personally reviewed these products. I was provided with a free sample of this product to review. I have not received any Monetary Compensation for this review but did receive free products to use & evaluate for the review. Your thoughts & opinions may differ from me. We must receive all entries by the end date of the contest and the odds of winning are determined by the number of entries received. No purchase necessary to enter.