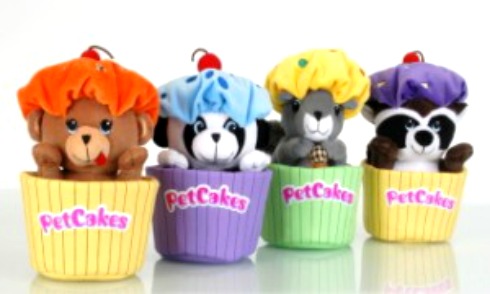 Today I would like to introduce you to the cutest little cupcake pets that I have ever seen! These adorable cuties are called PetCakes! These sweet treat toys are made for children ages 3 and up. Each PetCakes animal features a "frosting" hat and comes with their very own cupcake wrapper. Aren't they cute? I think so!
The PetCakes are highly collectible and are super fun for children and adults to collect. The PetCakes line was created by two gentlemen named Fred Catapano and Matt Nuccio, and the toy's popularity continues to grow with young and old alike.
My Review: The generous folks over at PetCakes sent us 2 Petcakes to review for all of you. My grand-wee-one is almost 3 years old and I knew she would love these as soon as she saw them…I wasn't disappointed and neither was she! The two that we received are from Series 2, the Forest Animals.
Roco Coco has a purple colored "frosting hat" with a red cherry on top, embroidered eyes and comes nestled inside a yellow cupcake wrapper.
Nutty Nicky has a yellow colored "frosting hat" with a red cherry on top along with various colored embroidered sprinkles, embroidered eyes and is nestled inside a green cupcake wrapper.
Each PetCakes character is totally removable from their fabric cupcake wrapper which I think is really cool. The grand-wee-one considers the cupcake wrapper to be her PetCake's bed. She loves to prop both of them up on her nightstand to watch videos with her and to be with her as she sleeps. The PetCakes are also her "dolly's pets when she is playing house.
I have never seen something as cute as these out in the retail "plush" marketplace and I think they are just adorable! They are super soft, ultra-cuddly and would make a great gift for the upcoming Easter holiday. I love that when you push the PetCakes character down into the cupcake wrapper that it looks like a colorful cupcake!
* This post contains affiliate links. If you make a purchase, we may or may not receive a small commission which helps to support this site. Thank you!
Disclaimer: Shelly has personally reviewed the product listed above. Shelly has not received any monetary compensation for her review. Shelly did receive a free product to try out so she could evaluate and use it for her review. Her thoughts & opinions in this review are unbiased & honest and your opinions may differ. Two Classy Chics is not responsible for delivery of any giveaway items won from this blog. We are not responsible for injury or mis-use of any products won from the Two Classy Chics Blog. Please read our Terms of Service & Disclaimer Policy before entering our giveaways. Thanks!