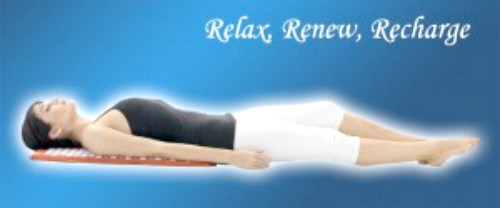 Today I would like to introduce you to the company called Heavenly Acupressure Mats and as you guessed it…they sell Acupressure Mats! Those who use an acupressure mat use them to help relieve pain, relieve stress, to increase energy levels, for relaxation and to improve sleep. These are all things I definitely need! Acupressure has been used in Asia for over 5,000 years and now you can experience the benefits of acupressure in the comfort of your home with the Heavenly Acupressure Mat.
My Review: The great folks over at Heavenly Acupressure Mats sent me their Heavenly Acupressure Mat to review for all of you. I first off want to state that I am a chronic pain sufferer and that I have a rare genetic disease called Porphyria. I have had chronic daily pain for over 25+ years now so I was super excited to review this product for all of you.
The Acupressure Mat measures 29″ long by 17″ wide so it's a great size for any adult in your household. The use of the Heavenly Acupressure Therapy Mat stimulates pressure points in your body that increase blood circulation and the release of endorphins. The endorphins are a natural pain & stress fighter that also produces feelings of euphoria, modulate appetite, trigger release of sex hormones, enhance immune response, and produce a state of well-being and relaxation.
This acupressure mat can be used under your neck and shoulders, under your stomach, under your back, under your hips and things or try standing on it. Wherever you need it…you can use it!
I quickly took it out of the box and read the information printed on the box so that I was an informed user. I then immediately placed it under my back while sitting at my desk doing some work. Within a few minutes I got used to it being under back and didn't even know it was there. (It takes a few minutes for you to get use to the "prickly" sensation).  Later that day I placed it on the floor and laid on it that way with my feet up over my sofa. (yes, I like to lay on the floor like that while I watch a movie). As I was laying on my new acupressure mat I realized that I could lay on my back for longer periods of time…usually I am in so much pain that I have to lay on my side.
I also suffer with chronic leg pain and foot pain thanks to neuropathy damage so I have also been placing my feet onto it when I am sitting at my desk or just sitting on my sofa watching TV. I love the "prickly" sensation I get when placing my feet on it. (the sensation goes away after a few minutes).
I have been using my new acupressure mat for almost a week now and I love it! Matter of fact, I don't know how I lived without it! I love how light-weight it is and that I can drag it all over my house or roll it up and pack it to go traveling. I have noticed a slight decrease in my pain and a slight increase in my energy levels too! I know all of that will improve even more as I use my new acupressure mat! I LOVE THIS THING and highly recommend that you give it a try too!
Disclaimer: Shelly has personally reviewed the product listed above. Shelly has not received any monetary compensation for her review. Shelly did receive a free product to try out so she could evaluate and use it for her review. Her thoughts & opinions in this review are unbiased & honest and your opinions may differ. Two Classy Chics is not responsible for delivery of any giveaway items won from this blog. We are not responsible for injury or mis-use of any products won from the Two Classy Chics Blog. Please read our Terms of Service & Disclaimer Policy before entering our giveaways. Thanks!