The wind is ALWAYS blowing in Oklahoma and it dries my skin and lips terribly. I have a wonderful remedy for the dried lips. It is Gettin Lippy Multi Flavored lip balm. Your lips will be gettin happy. This lip balm stays on forever-maybe not forever but a really long time. It makes your lips feel so good you just want to cake it on. In fact right on the label it says, "Lay it on thick". It's a great idea. And it really tastes good, whichever flavor you are using. That's right; each tube comes in 3 flavors.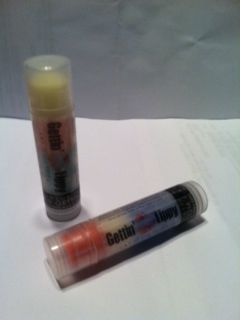 Gettin Lippy has a patent pending Lip Balm that they created that comes with multiple flavors/colors layered in every tube. They offer this cool lip balm several ways – Retail; custom orders for fundraisers, Special holidays flavors like the St Patrick's Day lip balms. What is cool is that every color is a new flavor but they do not color your lips!
I was sent 2 tubes to review and the flavors in my tubes are red apple, white pear, blue raspberry, yellow mango, pink peach and green pear berry. There are other flavors also. They are luscious tasting. If you don't care for a flavor you can just snap it off and go to the next. I couldn't imagine wasting this great product. When your honey kisses you, your lips will be so soft and so tasty they will be back for more.
These balms are hand poured right here in the United States of America. The ingredients include Ricinus Communis (Castor seed oil), Cetyl Stearyl Alcohol, Olea Europaea (olive) Fruit Oil, Beeswax, Hydrogenated Castor Oil, Glycine Soja (Soybean) Lipids< Lauryl Laurate, Camauba Wax, Eupharbio Cerifera (Candellia) Wax, Flavor oils and Iron oxides, dyes or pigments. So all you chemistry people can look all those things up. All I know is they feel great and work!
My grand daughter lives with me and loves it when I get new products to review. She wanted to try the lip balms as soon as she saw them. Then she wanted to know if she could have them. We compromised and each used a tube. She has been telling all her co-workers at both her jobs about them and now they all want them. Word of lips is truly the best advertisement.

Disclaimer: Please read our Official Rules before entering this giveaway. Nadine Bye has personally reviewed these products. I was provided with a free sample of this product to review. I have not received any Monetary Compensation for this review but did receive free products to use & evaluate for the review. Your thoughts & opinions may differ from me. We must receive all entries by the end date of the contest and the odds of winning are determined by the number of entries received. No purchase necessary to enter.