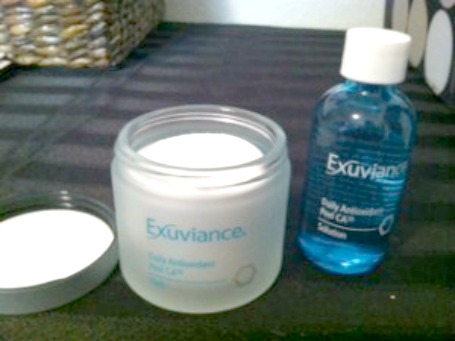 I am so excited to bring you a great new item today for your facial regimen. This is a one step daily peel that is so simple to use and is easy on your skin plus it works on the anti-wrinkle and anti-aging process for you! I remember a girl I used to work with got a facial peel once and her skin looked like it was peeled off. It was so red and tender, it hurt just looking at her. Poor thing. I vowed I would never do something like that to my face and I never have. The products we have today as so much kinder to our skin and this new product is a perfect example of that.
NeoStrata just introduced the Exuviance Daily Antioxidant Peel CA10. This one-step, daily peel gently exfoliates and delivers a powerful dose of protective antioxidants with a high-performance Citric Acid molecule that perfects your skin every day and helps prevent future signs of aging. In the clinical study, 100% saw smoother texture and more even skin tone after just one use! Now that is exciting!
This system comes in 2 parts; a bottle of liquid and a jar of pads. When I first saw it, I thought to was a multiple process peel and then I read the directions. All you do is pour the liquid into the jar and the pads absorb the liquid immediately. Simple enough. Then you use a pad to wipe your face off daily after cleansing. That's it. A 20 or 30 second addition to your routine so you do have time for this.
What is this difference between this peel and other peels that you may have or use? Most peels that you do at home are recommended for use once or twice a week. You can still do those as they are focusing on reducing the signs of aging directly. The Exuviance Daily Antioxidant Peel CA10 is to use on days that you are not doing a weekly peel to help reduce Future aging and wrinkles. Vitamin C is a powerful antioxidant as you know internally, but it is just as powerful topically too. Combining this peel with something you use already or another NeoStrata or Exuviance product will really reduce your aging process.
I have used this peel several times and I am thrilled with the results. One side of the pad has a slight texture to it and that is the side you use on your face to get in all of the nooks and crannies. It is a moist peel and it takes a bit for the moisture to absorb and dry on your face. Afterwards, I used a nice soothing cream and my face felt Awesome!
I love this product! I put it on the other night and then followed it with my moisturizer and this next am, my fine lines and wrinkles were nicely reduced on my forehead and by my eyes. I really like that this is not a harsh chemical peel. It is relatively mild on your face and yet still does the job. I felt no burning or itching or anything. I have never had an adverse reaction to the NeoStrata products which I am so pleased about as I love their great selection for anti-aging and anti-wrinkle products.
If you are looking for something to help smooth your facial skin and work on your wrinkles, check out this new Exuviance Daily Antioxidant Peel CA10. This focuses on prevention of future wrinkles so women of all ages will enjoy this. It might be the one you have been looking for!
Disclaimer: Chris Carroll has personally reviewed the product listed above. She has not received any monetary compensation for her review but did receive a free product to try out so she could evaluate and use it for her review. Her thoughts & opinions in this review are unbiased & honest and your opinions may differ.