As someone that knows I have to get moving if I am ever going to get back into shape, I thought a cool DVD of some easy workouts that I could do would really help me. A leading distributor of award-winning DVD workouts, Acacia Lifestyle recently partnered with the leader in healthy living, Canyon Ranch, and the #1 diet and fitness website, SparkPeople. Coming out on April 3rd, Acacia is bringing you a 30-day workout plan from its best-selling fitness series Exhale: Core Fusion 30 Day Sculpt, featuring 30 twenty-minute workouts from the top husband and wife team in fitness, Fred DeVito and Elisabeth Halfpapp.
Exhale: Core Fusion 30-Day Sculpt features a complete five-week plan with 30 hand-picked segments from Exhale's award-winning, best-selling DVD series. Designed by the top husband and wife fitness team and Core Fusion creators Fred DeVito and Elisabeth Halfpapp, each week includes six 20-minute workouts (plus a rest day) that mix sculpting and cardio moves for total fitness with segments from some of Core Fusion's most popular programs including Lean & Toned, Boot Camp, Yoga- Energy Flow, and Cardio: Pure Intensity. Taught like one of Exhale's nationally renowned celebrity-loved Core Fusion classes, the release brings the mind/body spa experience home with the structure of a personalized and customizable fitness plan that also includes motivation and nutrition tips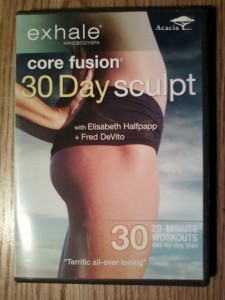 Get a fit, firm, and fantastic physique, one day at a time with this complete five-week plan featuring 30 segments hand-picked from Exhale's popular programs. From toning and strength training to yoga and cardio, it's all planned for you! Soon, you'll lose weight and build strong legs, defined abs, cut arms, and lifted glutes.
I was sent a DVD to check out for you all and what I like most about this DVD is the variety of workouts. It is great for someone that gets bored with the same routines over and over. It is also great for people, like me, that don't exercise enough. There is a nice variety and they are not horribly difficult. And these exercises will ensure that you are not plateauing either. You are working all of your body and not doing the same thing over and over. These exercises are created to do at home and the only equipment needed is some light hand weights and a mat. Nice!
I did a few of them and while I have a long way to go, I felt like I could reasonably keep up with the pace. The great thing about doing this at home is you can stop the DVD while you get over your heart attack. LOL In all honesty, this is a great program that will help you get some of those body parts back into shape and I am all for that! Striving to have a bod like the one shown? Yea – that's never going to happen for me! HAHA
There are more of the Core Fusion DVD series that includes: Body Sculpt, Pilates Plus, Thighs & Glutes, Pure Abs & Arms, Lean & Toned, Core Fusion Yoga, Boot Camp, Cardio-Pure Intensity and Power Sculpt. Co-creators Fred DeVito and Elisabeth Halfpapp have over 50 years of combined experience teaching Pilates, Lotte Berk Method, yoga, and dance, and they are founding team members of Exhale, a leading mind/body spa with locations in the U.S. and the Caribbean.
This new DVD will hit the Street on April 3, 2012 SRP: $19.99 Approx. 180 min. Look for it at your favorite retailers of you can buy it from Acacia Fitness online. Enjoy!
The Giveaway:
One lucky person can win a copy of the New Exhale: Core Fusion 30 Day Sculpt DVD – ARV $20 Cool! Here is how to enter!
CONTEST CLOSED
Disclaimer: Please read our Official Rules before entering this giveaway. Chris Carroll has personally reviewed these products. I was provided with a free sample of this product to review. I have not received any Monetary Compensation for this review but did receive free products to use & evaluate for the review. Your thoughts & opinions may differ from me. We must receive all entries by the end date of the contest and the odds of winning are determined by the number of entries received. No purchase necessary to enter. All Content on this site is Copyright of the Two Classy Chics – Shelly Hill and Chris Carroll. All Rights Reserved