Ever since I had my son, my pierced ears have bothered me. I all of a sudden could not wear earrings for long periods of time and would get infections continually. I would switch out earrings after earrings to no avail. So I had to stop wearing earrings for a long time. I have been careful on what I do wear now and make sure that I choose comfortable earrings and I usually remove them each night.
I was able to check out some earrings with a different twist. Comfy Earrings is a site that has come up with a different design than we are used to. After looking at body jewelry designs, the creator thought "What if I could merge the two worlds and make the most comfortable earrings on Earth? Here is what she came up with: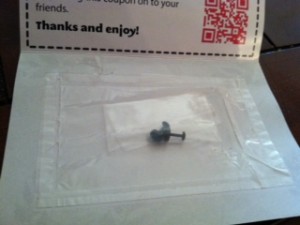 The idea was fairly simple, the earrings needed to:
• be high quality, made of surgical steel or sterling silver
• have flat backs (eliminating the painful stabbing feeling most earrings give you behind the ears)
• not squeeze or pinch the earlobes.
Traditional earrings have a few problems:
1. They have a back that slides on the post. Often, this makes the earring too tight, which squishes your earlobe causing soreness and irritation.
2. They have a post that sticks out the back and pokes you in the neck when you lay down or talk on the phone.
ComfyEarrings™ solve these problems and bring relief to your ears and neck by using a flat back that screws on the earring posts. This flat back eliminates the pressure on your ears and, because it covers the back of the post, it protects your neck from painful pokes when you talk on the phone or sleep.
These are earrings you can sleep in and leave in for long periods of time due to their unique design. I was sent a pair to try out and I will admit, I had some difficulty at first getting them in because the design is backwards from what we are normally used to. You insert the back which includes the post first and then attach the head from the front and that screws onto the post.
The earring is very small so I had a hard time manipulating it. I had a friend try them and she fumbled about at first too but then was able to get them attached. The design is a fabulous idea and she said the are very comfy to wear. It does take a little practice to unlearn the traditional earring!
These are super cute. I love the black steel that I chose with the emerald green crystal. I wish the head and crystal was a tad bigger. It would have helped me get them on. These are great for all ages however. No having to buy infant or little girl sizes for young ones that have pierced ears and for adults, they are pretty enough to wear with anything!
I love the idea of the flat back earrings and especially these because they are made of stainless steel or sterling silver which reduces irritation and infections in a lot of people. Also the shipping method is very unique too since the earrings are attached to a postcard. No bulky shipping material and you can recycle the card. Nice!
So I am going to keep practicing so I can get these on quickly and enjoy wearing some comfy earrings that I can sleep in and wear for long periods of time. Sounds like a winner!
The Giveaway:
One lucky person is going to win a pair of the Comfy Earrings of choice! Here is how you can enter to win.
CONTEST CLOSED
Disclaimer: Please read our Official Rules before entering this giveaway. Chris Carroll has personally reviewed these products. I was provided with a free sample of this product to review. I have not received any Monetary Compensation for this review but did receive free products to use & evaluate for the review. Your thoughts & opinions may differ from me. We must receive all entries by the end date of the contest and the odds of winning are determined by the number of entries received. No purchase necessary to enter. All Content on this site is Copyright of the Two Classy Chics – Shelly Hill and Chris Carroll. All Rights Reserved