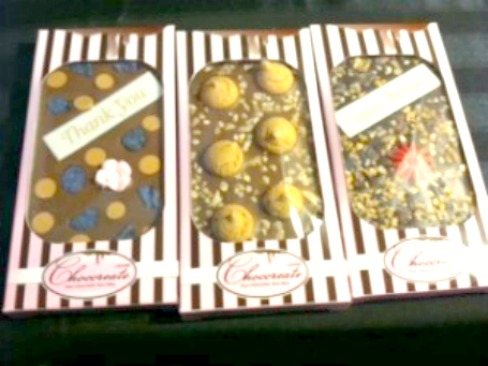 Like most women and many guys, I suppose, I love chocolate! The flavor is soothing and heck, there are even some health benefits too! Receiving chocolate as a gift makes me a very happy girl and I loving giving it as a gift too. Looking for a unique chocolate gift can be difficult but I am going to share with you an awesome place to find that uniqueness.
Choccreate brings to the marketplace individually Customized Greeting Chocolate Bars. Their passion is creating custom Greeting Chocolate Bars designed by the customers. Their site offers beautiful custom and ready to go designs in chocolate that you are going to love!
I was sent 3 amazing bars of decorated chocolate to sample for you. One was in Milk Chocolate topped with awesome Italian Amarettini Cookies, Hazelnut Brittle and Ground Espresso. When I opened the package, the scent of coffee came wafting up. Oh gosh, I knew this was going to be good! I was not disappointed! The bar is firm and rather thick so it can hold these amazing toppings without falling apart or becoming a sticky mess. There are breaking points on the back so you can snap off bites at a time. Ummmm! The flavors together were amazing!
I also tried the Dark Chocolate that had Hazelnut Brittle and Dried Raspberries along with a parzipan plaque that is edible with Happy Birthday emblazoned on it. It even includes a darling red candle holder and a single candle. How Cute is that and what a lovely gift idea for not a whole bucket of cash!
The last Choccreate Chocolate Greeting Bar is a milk chocolate with Candied Purple Violet Petals, Icing Sugar Pink Roses and Peanut Butter Chips. It has the parzipan plaque with Thank you written on it. I love it!
These bars are not only pretty to look at but they are flavorful too. Firm chocolate with delicious toppings you cannot help but savor every bite!
The Giveaway:
The fine folks at Choccreate are letting us give one lucky someone a $20 Gift Certificate to their store. YUMMM Here is how to enter!
CONTEST CLOSED
Disclaimer: Please read our Official Rules before entering this giveaway. Chris Carroll has personally reviewed these products. I was provided with a free sample of this product to review. I have not received any Monetary Compensation for this review but did receive free products to use & evaluate for the review. Your thoughts & opinions may differ from me. We must receive all entries by the end date of the contest and the odds of winning are determined by the number of entries received. No purchase necessary to enter.