Today I would like to introduce you to the company called Learning Resources who makes a wide variety of educational toys and games for children. When you visit the Learning Resources web site…you can shop as a Parent or as a Teacher. Furthermore, you can shop by age group, category, by brand or by subject. I love how user-friendly the Learning Resources site is!
You will find activity sets & books, construction sets, active learning & play sets, discovery & exploration sets, electronic toys, games, puzzles, water & sand toys and a whole lot more! Everything on their site is extremely well-made and affordable.
My Review: Today I am reviewing for all of you the Catch 'n' View 2-in-1 Butterfly Net and Tent by the great folks over at Learning Resources.  This product is used to catch bugs and butterflies and then your little one can view them in the observation tent and then release them…how cool is that? Totally cool! It is made for children ages 3 and up and retails for $14.99.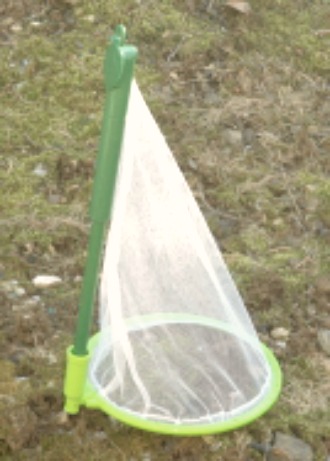 Features: It has a telescoping handle that folds up for easy storage or for taking it on-the-go…perfect for family outings to the park! The handle folds up quickly & easily to turn the net into an observation tent. The "easy-on" lid keeps butterflies in place and makes the release a snap. The net measures 10 1/4″ in diameter and the handle measures 9″ to 17″ in length which makes it the perfect size for preschoolers. At the top is a little leaf-shaped hook and you can easily hang it up to store it.
As you all know…I have a 2 1/2 year old grand-wee-one (she will be 3 soon) who loves to be outdoors and absolutely loves animals so I was super excited to review this product for all of you…it is just perfect for her! The butterfly catching net is made from hard durable plastic but yet it is very light-weight! The netting is a really fine mesh so your child can really go out bug hunting and nothing will get through the net once caught…our wee one loves to go out and catch lightening bugs during the spring & summer months so I am sure she will be using her net for that once spring arrives! I love that the packaging has fully printed & in color instructions to show you how to convert it from a bug catching net to a bug observation tent. We played around with this and trust me…it is super easy to do!
I know we will have hours upon hours of fun using this net with our grand-wee-one! We love it and we highly recommend that you go out and purchase it now so you are ready for bug-catching season once it arrives!
You can purchase the Learning Resources Catch 'n View
directly from Amazon for a great price! We love using this net to catch butterflies, moths, ladybugs, fireflies, etc. and we've never hurt them! We catch, observe for a few minutes and let them go again.
* This post contains affiliate links. If you make a purchase, we may or may not receive a small commission which helps to support this site. Thank you!
Disclaimer: Shelly has personally reviewed the product listed above. Shelly has not received any monetary compensation for her review. Shelly did receive a free product to try out so she could evaluate and use it for her review. Her thoughts & opinions in this review are unbiased & honest and your opinions may differ. Two Classy Chics is not responsible for delivery of any giveaway items won from this blog. We are not responsible for injury or mis-use of any products won from the Two Classy Chics Blog. Please read our Terms of Service & Disclaimer Policy before entering our giveaways. Thanks!