I am really excited today! I have some unique cosmetic items to bring to you that are a step above traditional products that you see on a daily basis. Brought to you by blinc, a performance-based prestige cosmetic brand, Where Innovation Meets Beauty.  blinc produces superior quality mascara, eyeliner, eyebrow mousse, eyeshadow phase one, lash primer and skin care products. I think you will be as impressed as I am!
blinc products are unique because their concepts offer a dramatic leap from solutions that existed before, placing them among the best performing products in the world in their respective categories. I was sent 2 awesome product to try out for you today; The Eyebrow Mousse and their Mascara.
blinc's Fountain of Youthful Color® Eyebrow Mousse™ is the original product invented to give enhancing, water-resistant and moisturizing color to your brows with anti-aging benefits for the underlying skin. This type of product is sometimes known as eyebrow mascara and once applied, the blinc Eyebrow Mousse™ fills in sparse areas to create the perfect brow line that cannot fade, run, or smudge, even if you sweat or wear it in harsh weather conditions.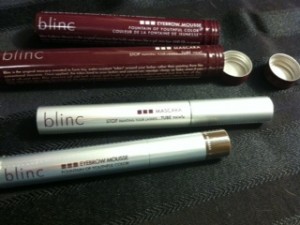 This comes in a tube similar to mascara and it is applied with a wand, again similar to a mascara brush. I have never used eyebrow liners before so I wasn't quite too sure about using one. This was very cool though. I applied the color to my eyebrows and it was very natural looking. Since I am blonde, I have a lot of blonde eyebrow hairs that were not seen. The color blended perfectly with my brow color and slightly darkened the "missing" hairs that you could not normally see on me. Cool!
I love that this is an all day product, it is not coming off by just wearing it. I remember my mom always making sure her eyebrows were on. LOL You do not have to do that with this product. I also like that this is not fake looking! Sometimes I look at women and their brows are drawn on or the wrong color or just wild looking. This Mousse comes in 7 colors to match your perfectly! I really like this product and a little went a long way on me!
The other product I got is their awesome Tube Mascara. Formerly known as Kiss Me, blinc is the original mascara invented to form tiny water-resistant "tubes" around your lashes rather than painting them like conventional mascaras. Once applied, these beauty tubes bind to your lashes and cannot run, smudge, clump, or flake, even if you cry or rub your eyes. Whether your daily activities take you from the office, to your sweaty workout and then out to dinner, your lashes will look as good in the evening as they did when you first applied blinc in the morning.
blinc mascara will add volume and length to give you a radiant natural look that lasts all day. Blinc is better than waterproof mascaras. All it takes is the combination of lots of warm water and gentle pressure, from your fingertips, a washcloth or water pressure (i.e. shower) and the tubes will slide off your lashes effortlessly. Upon removal you will actually see the tiny beauty tubes in your hand!
blinc mascara has been clinically tested to be non-irritating making it ideal for sensitive eyes, contact lens wearers, you and me! I am in love with this product.
I have been a mascara snob for YEARS and normally use one brand because it never made my eyes itch and it made my eyelashes look thick and long and really nice. Today I am bringing you my new love! Oh my goodness. This mascara totally rocks! This product applies just like a mascara; nice wand and all. It added volume and length to my lashes and never flaked off. That is one problem I had with my other stuff. It flaked off and made a mess under my eyes. This I wore day in and out and it did not flake. I have no itchy eyes at all and my lashes feel nice, not goopy and gunky like some will do to you.
Definitely a keeper in my book! This is going on the top of my favorites list! The blinc products are totally unique and they work wonders all day long! Love them and their packaging containers are super cool too! LOL
The Giveaway:
One winner is going to win 3 fabulous blinc products! The Mascara, Eyebrow Mousse and Liquid Eyeliner in your choice of colors. ARV $75 You are going to love it! Here is how to enter!
CONTEST CLOSED
Disclaimer: Please read our Official Rules before entering this giveaway. Chris Carroll has personally reviewed these products. I was provided with a free sample of this product to review. I have not received any Monetary Compensation for this review but did receive free products to use & evaluate for the review. Your thoughts & opinions may differ from me. We must receive all entries by the end date of the contest and the odds of winning are determined by the number of entries received. No purchase necessary to enter. All Content on this site is Copyright of the Two Classy Chics – Shelly Hill and Chris Carroll. All Rights Reserved