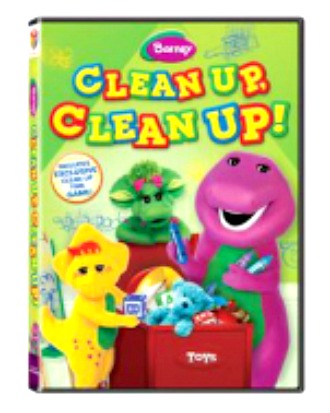 Get swept up in all-new Barney Fun with this brand new release called Barney: Clean Up, Clean Up available on DVD, Digital Download and On Demand on March 6th, 2012 from Lionsgate and HIT Entertainment.
Who says being tidy can't be fun? Let preschool favorite Barney show cleaning up is enjoyable when everybody works together in Barney: Clean Up, Clean Up. This release is accompanied by 19 fun songs including everyone's favorite "Clean Up, Clean Up" song and an all-new game, "Clean Up Time" found only on DVD! Barney and his friends prove that kids can have a great time being cleaning machines!
DVD Synopsis: Barney shows how to make cleaning fun; from painting the caboose, to washing windows, to putting away toys! See Riff learn new tricks when his litterbot leaves him in a heap of a mess. All the friends help BJ out of a big spill, and they work together to host a fancy tea party. Everything's better with friends, and when teamwork helps with clean-work, the world sparkles and shines!
Episodes Include:
* Litterbot
* All Aboard!
* The Nature of Things
(DVD Bonus Features: Clean Up Time Game, Clean Up ~ Do Our Share Music Video and Clean Up, Clean Up Karaoke Song).
Our Review: Our Grand-Wee-One attends preschool 4 days a week and at the end of the day before the parents get there to pick them up all of the kids have been taught to sing Barney's Clean Up, Clean Up song as they pick up the toys & books at the preschool. This is also the song we use here at our home when it comes time for grand-wee-one to pick up her toys here so I knew she would love this DVD as soon as she saw it!
The DVD is geared towards children ages 1-5 years of age and it's nice to know as a parent/grandparent that we can go out and find quality entertainment for our kids. Barney the TV series and Barney on DVD is certainly that…Quality Entertainment for Kids! The DVD has an approximate running time of 52 minutes in length which is the perfect running time for this age group.
Since receiving this DVD our grand-wee-one has viewed it numerous times and her favorite episode on the DVD is the "Litterbot" episode but she also loves the "Clean Up, Clean Up" Karaoke Song which is one of the bonus features on the DVD. I love listening to her sing that song! As with all Barney DVD's this one has great storylines about sharing, caring and helping one another and the music is fun to sing along to or to get up and dance to like the grand-wee-one does!
We highly recommend this great DVD to your family and you can find it for sale at Amazon for the DVD SRP of $14.98.
Giveaway: One lucky winner is going to win the new Barney: Clean Up, Clean Up DVD! yeah! (prize value of $14.98).
CONTEST CLOSED
I would like to thank the PR Company I am working with for sending me the product(s) to review for all of you! We love your products!
Disclaimer: Shelly Hill has personally reviewed the product listed above. Shelly has not received any monetary compensation for her review. Shelly did receive a free product to try out so she could evaluate and use it for her review. Her thoughts & opinions in this review are unbiased & honest and your opinions may differ. Two Classy Chics is not responsible for delivery of any giveaway items won from this blog. We are not responsible for injury or mis-use of any products won from the Two Classy Chics Blog. Please read our Terms of Service & Disclaimer Policy before entering our giveaways. Thanks!