Today I would like to introduce you to the company called Bare Fruit Snacks who makes healthy, low-calorie, high in fiber and naturally sweet, dried fruit snacks. The only ingredient in their dried fruit snacks is…fruit and only fruit! When you shop for your healthy snacks from Bare Fruit Snacks you will find the following delicious flavors:
* Fuji Apple Chips
* Cinnamon Apple Chips
* Granny Smith Apple Chips
* Dried Cherries
* Dried Mangos
* Dried Pears
My Review: For the review I received a large 14 oz. bag of their Cinnamon Apple Chips which are 100% organic and bake-dried. No sugar has been added, no preservatives and they are gluten-free. There are only 2 ingredients: Organic Washington State Apples and Organic Cinnamon. Each serving is only 58 calories so it's a great healthy snack for those watching their weight.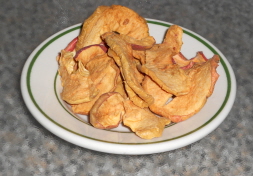 Here in my home we love fruits and that includes dried fruit snacks. We like eating our dried fruit snacks right out of the bag or tossed into cereal, oatmeal or ice cream. Once my package arrived we enjoyed a few handfuls straight from the bag. Once you eat one of these dried apple chips, you will definitely want more! They are crispy, chewy and very flavorful.
I have had dried fruit snacks in the past that were so hard you felt like you were breaking your teeth chewing on them. These are NOT that! They have a very nice chewable and flavorful texture to them. You taste mostly the delicious apple with just a hint of the organic cinnamon.
The bag that we received didn't last long here in our home as my family really enjoyed them and consumed them quickly! They were absolutely delicious and we highly recommend that you check out Bare Fruit Snacks for all of your dried fruit snacking needs! Our order was well packaged and arrived super quickly to our home. You can purchase Bare Fruit Snacks directly from them and from several retailers across the nation.
Giveaway: One lucky winner is going to win a case of the Bare Fruit Cinnamon Apple Snacks! The case contains 12 bags! Value $27.45. Wow!
CONTEST CLOSED
I would like to thank the company for sending me the product(s) to review for all of you! We love your products!
Disclaimer: Shelly Hill has personally reviewed the product listed above. Shelly has not received any monetary compensation for her review. Shelly did receive a free product to try out so she could evaluate and use it for her review. Her thoughts & opinions in this review are unbiased & honest and your opinions may differ. Two Classy Chics is not responsible for delivery of any giveaway items won from this blog. We are not responsible for injury or mis-use of any products won from the Two Classy Chics Blog. Please read our Terms of Service & Disclaimer Policy before entering our giveaways. Thanks!