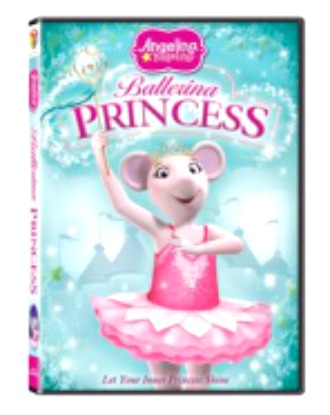 Let your inner princess shine in this all-new Angelina Ballerina – Ballerina Princess DVD available on March 6th, 2012 from Lionsgate and HIT Entertainment.
Once upon a time there was a graceful mouseling ballerina who loved to dance and put on magical performances with her friends. Her royal mouse-ness is back doing what she does best ~ charming and entertaining aspiring young dancers in Angelina Ballerina: Ballerina Princess, a five-episode collection on DVD. Leap into the fun as everyone's favorite dancing mouseling tracks a mysterious tutu, learns that every role is important, uses creativity & dance to tell a story and more!
Synopsis: Join Angelina Ballerina & her friends for enchanting adventures filled with princesses, princes, kinds & queens. Dancing their way through Chipping Cheddar, Angelina encounters a bad fairy, uncovers a Cinderella-like mystery, treats the kind & queen to a regal performance & brings an epic tale to life on stage! With secrets, spells, dance & celebrations, it's a royally good time for all.
Episodes:
* Angelina's Big Part
* Angelina & Polly's Two Hour Show
* Angelina's Fancy Tutu
* Angelina & the Carnival
* Angelina's Indian Lunchtime
Our Review: We have reviewed several Angelina Ballerina DVD's for you in the past so we were really excited to get this new one. My almost 3 yr. old grand-wee-one absolutely loves Angelina so I knew she would love this DVD since it was "Princess" related and she is all about "Princesses" right now!  The DVD has a total running time of 61 minutes so each episode is about 12 minutes in length which is perfect for this age group. The DVD is geared towards kids ages 2-7 and I would agree with the age recommendations.
We sat down one afternoon to watch the DVD with Princess-Wee-One and let me tell you…she loved it! After watching it the first time she had to put on her own tutu and watch the DVD again so that she could twirl, sing & dance right along with Angelina Ballerina and all of her friends. It was so cute to see her interact with this fun-loving DVD like that. Out of all 5 of the episodes her favorite one was the "Angelina's Fancy Tutu" and I think that is because she LOVES tutus!
This DVD would make an excellent addition to your child's video library and you can purchase it from Amazon.com or see the Angelina Ballerina web site for additional information. The DVD SRP: $14.98.
Giveaway: One lucky winner is going to win this brand new Angelina Ballerina DVD called "Ballerina Princess". Prize Value $14.98.
CONTEST CLOSED
We would like to thank HIT Entertainment and the PR company that we work with for sending us the DVD to review for all of you. We highly recommend that you purchase it if you have little girl's in the family as I think they would totally enjoy it!

Disclaimer: Shelly Hill has personally reviewed the product listed above. Shelly has not received any monetary compensation for her review. Shelly did receive a free product to try out so she could evaluate and use it for her review. Her thoughts & opinions in this review are unbiased & honest and your opinions may differ. The Two Classy Chics are not responsible for delivery/shipping of giveaway items won from this blog nor are we responsible for mis-use or injury caused by items won from the TCC Blog. Copyright 2010-2012, All Rights Reserved.