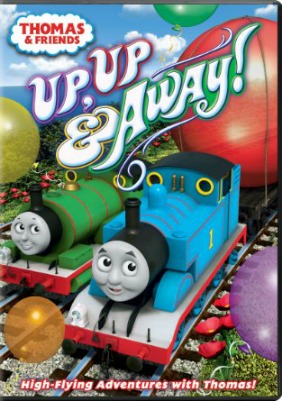 Thomas is racing down the tracks for Easter in this brand new DVD called Thomas & Friends: Up, Up & Away available on DVD, Digital Download and On Demand on March 6th, 2012 from Lionsgate and HIT Entertainment. The DVD SRP: $14.98 and is for children ages 2-5 years of age.
Thomas and his friends reach new heights of fun & adventure in this new DVD, a collection of four soaring episodes in this all-new release with special features that includes a game and puzzles right on the DVD. For over 65 yrs., the award-winning Thomas & Friends has taught timeless life lessons of discovery, friendship and cooperation, inviting generations of children to enter a world of imagination through the tracks of a train & the words of a story.
DVD Synopsis: Thomas & his friends reach new heights in these high-flying adventures! Thomas & Percy have a special adventure as they try and try again to bring balloons to Mr. Bubbles' Big Balloon Show. At the Children's Steam Fair, Emily learns there are great rewards and laughs in helping others; Keven tries his hook at Hide & Peep and Thomas has a wonky whistle!
Episodes Include:
* Up, Up & Away
* Wonky Whistle
* Keven the Steamie
* Emily and Dash
(bonus DVD features: Catch the Balloon Game and Guess Who? Puzzles are all included on the DVD).
Our Review: As I do every 2 weeks, I invited my grand-wee-one and my god son up to our home for a movie viewing party with my husband and I. I popped us some popcorn and served some juice to our little guests & then we sat down to watch this new Thomas & Friends DVD with them. The DVD has a running time of 49 minutes in length so these are nice and short episodes which holds their attention really well.
As we watched each episode with the 2 youngsters I could really tell they were "into it" and "enjoying" themselves as they would laugh, smile and talk back & forth with one another about what they were watching on TV. You can tell when a child is bored & these 2 were totally entertained by the video.
As with all Thomas & Friends DVDs this one has excellent storylines that are loaded with valuable life-lessons that they teach to our children. I love how they constantly stress the importance of friendship & cooperation and they do it in such a fun way on these DVDs. The graphics are super cool and as adults…we enjoyed watching the DVD too! It would make an excellent addition to your child's library and don't forget…Easter is just around the corner and it would make a great Easter Basket stuffer!
You can visit the Thomas & Friends web site for additional information and you can purchase this new DVD from Amazon.
I would like to thank the PR Company we work with for sending me the product(s) to review for all of you! We love your products!
Disclaimer: Shelly Hill has personally reviewed the product listed above. Shelly has not received any monetary compensation for her review. Shelly did receive a free product to try out so she could evaluate and use it for her review. Her thoughts & opinions in this review are unbiased & honest and your opinions may differ. Two Classy Chics is not responsible for delivery of any giveaway items won from this blog. We are not responsible for injury or mis-use of any products won from the Two Classy Chics Blog. Please read our Terms of Service & Disclaimer Policy before entering our giveaways. Thanks!