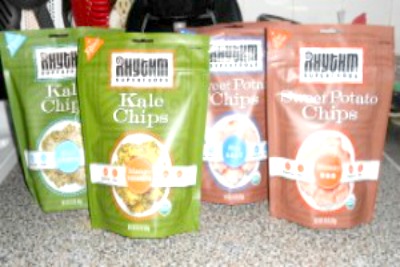 Today I would like to introduce you to the company called Rhythm Superfoods which has been in business since 2009. This wonderful company makes and sells "healthy" snack foods in the form of Kale Chips and Sweet Potato Chips.
The Kale Chips and the Sweet Potato Chips come in the following flavors:
Kale Chips: Zesty Nacho, Bombay Curry, Kool Ranch, Texas BBQ and Mango Habanero.
Sweet Potato Chips: Sea Salt and Hickory BBQ.
My Review: The generous folks over at Rhythm Superfoods sent us 4 bags of their snack products to try out for all of you. First up is the Sweet Potato Chips which we received a bag of the Sea Salt and a bag of the Hickory BBQ. My family is a big fan of Sweet Potato Chips so we were excited to give this brand a try. They are fat-free, gluten-free, rich in Vitamin A, raw/vegan, oil-free and are a heart healthy snack. I served both of the Sweet Potato Chips to my family during our family movie night and within a few minutes they were gone. Out of these two our favorite was definitely the Hickory BBQ ones! yummy!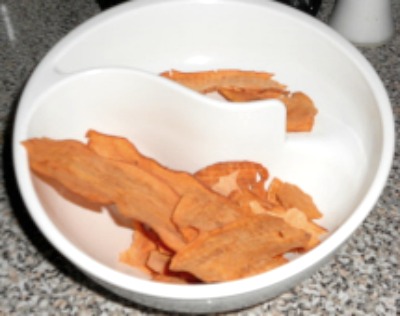 We were also sent one bag of the Kale Chips in the Kool Ranch flavor and one bag of the Kale Chips in the Mango Habanero flavor. I will admit, I am not a fan of kale chips so I didn't try these at all. However, my mother is a huge health nut and loves kale chips so I left her have both bags of them. She called me a few days later raving about them and asked me where I had gotten them. She said both were delicious but her favorite was the Kool Ranch. If you are not familiar with what kale is…it is a member of the cabbage family and is rich in antioxidants. It's a good source of vitamins A, C, K and B6…so these are great for those of you who truly want a healthy snack food!
We would love to thank Rhythm Superfoods for participating in this product review here on our wonderful blog. If you are looking for great tasting health snacks…check out their Kale & Sweet Potato Chips!
Disclaimer: Shelly Hill has personally reviewed the product listed above. Shelly has not received any monetary compensation for her review. Shelly did receive a free product to try out so she could evaluate and use it for her review. Her thoughts & opinions in this review are unbiased & honest and your opinions may differ. Two Classy Chics is not responsible for delivery of any giveaway items won from this blog. We are not responsible for injury or mis-use of any products won from the Two Classy Chics Blog. Please read our Terms of Service & Disclaimer Policy before entering our giveaways. Thanks!