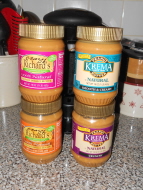 Today I would like to introduce you to a peanut butter company called Krema which got it's start in the peanut butter making field back in 1898. The Krema Products Company is the oldest peanut butter company in the United States. In 1991, Krema acquired the Crazy Richard's Natural Peanut Butter brand from it's founder, Richard Marcus. As a child growing up in the mid-atlantic states I am familiar with Crazy Richard's Peanut Butter but have never tried the Krema brand until now!
My Review: The generous folks over at Krema Products Company sent me and my family 4 jars of peanut butter to try out for all of you. We are a HUGE peanut butter using family so I was super excited to give all 4 of these a try and my family was excited about it too!
From the Krema line we received a jar of the Natural Smooth & Creamy Peanut Butter and a jar of the Natural Crunchy Peanut Butter to review for you. When you look at the ingredients list on each jar you will see that they only have one ingredient and that is peanuts! There is no added sugars or preservatives or anything else! yeah!!! Each one has 0 grams of Trans Fat which is wonderful too! I decided to use the Smooth & Creamy Peanut Butter to make their recipe for a Frozen Peanut Butter Pie. (you can find the recipe on their site). It was super easy to prepare and let me tell you, it was delicious! My family tore up that peanut butter pie in quick fashion!  My hubby loves crunchy peanut butter so he has been using that particular jar for his snacking needs (dipping pretzels in it, using it on his breakfast toast or a PB&J sandwich from time to time) and he loves that crunchy peanut butter and often tells me how delicious tasting it is! He has claimed that jar as "his" so we haven't been touching it! LOL
From the Crazy Richard's line we received a jar of the 100% Natural Creamy Peanut Butter and a jar of the 100% Natural Chunky Peanut Butter to try out for all of you. I decided to use the creamy peanut butter to make a batch of chocolate no-bake oatmeal cookies. I love this peanut butter! Its great straight out of the jar or use it in your baking recipes…it's that good! I decided to use the chunky peanut butter to make a batch of peanut butter chocolate chip cookies (the kind you do bake) and we loved those too! Both of these peanut butters have a nice smooth taste with no bitter after-taste at all.
I have nothing negative to say about any of these peanut butters! If I had to pick a favorite one it would be the Krema Natural Smooth & Creamy, hubby would select the Krema Natural Crunchy but yet my 26 yr. old daughter was all over the Crazy Richard's Chunky Peanut Butter. So as you can see, all 4 varieties are fantastic!
Giveaway: We will have two (2) winners for this giveaway and each winner will receive (2) jars of delicious tasting peanut butter!
CONTEST CLOSED
I would like to thank our sponsor for sending me the product(s) to review for all of you and for sponsoring a giveaway here on the TCC Blog!
Disclaimer: Shelly Hill has personally reviewed the product listed above. Shelly has not received any monetary compensation for her review. Shelly did receive a free product to try out so she could evaluate and use it for her review. Her thoughts & opinions in this review are unbiased & honest and your opinions may differ. Two Classy Chics is not responsible for delivery of any giveaway items won from this blog. We are not responsible for injury or mis-use of any products won from the Two Classy Chics Blog. Please read our Terms of Service & Disclaimer Policy before entering our giveaways. Thanks!