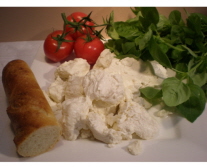 As you all know…I love to cook, bake and spend time in my kitchen and today I get to introduce you to a fabulous company called Golden Age Cheese. This company is based out of the great state of New York and has been in business since 1983. They produce and sell several different varieties of 100% all natural cheese! You will find such varieties as Swiss Cheese, Mozzarella Cheese, Mild to Aged Cheddars, Smoked Cheese and Muenster Cheese to name just a few.
My Review: For my review I was sent 4 (one pound) bags of Fresh Mozzarella Cheese Curds so that I could try my hand at making fresh homemade Mozzarella String Cheese! yeah! I love trying new and different things and I never imagined I could make my own cheese! You purchase this by the pound and it's shipped in a cooler to you. How cool is that?
Once my cheese curds arrived I placed them into my refrigerator until the weekend when I would have time to make my own Mozzarella Cheese! Once the weekend came I got my cheese curds out and left them stand at room temperature for 10 minutes. While that was going on, I came onto the Golden Age Cheese site and read their step by step instructions on Mozzarella Stretching which even has great close up photos. I then took my laptop into the kitchen and got busy making my cheese.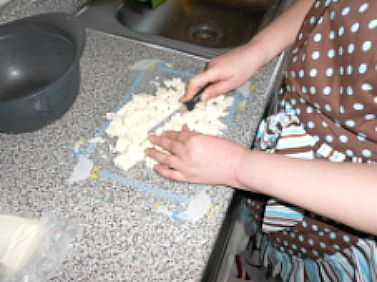 We chopped up our cheese curds and placed them into a bowl of extremely hot water (about 150 degrees). We left it sit in the hot water until it was ready to be "worked with". We found that separating ours into 2 large balls was easier to work with since we had 4 lbs. of curds. My hubby decided to get in on the action and he worked the curds according to their directions until it was ready for stretching. (there is also a step where you need to place your cheese balls into ice water and we did that step too).
He made us 2 oval shaped cheese balls (hubby is not good at making round things LOL), several smaller cheese logs and he made this big flat round piece which we used for a cheese roll up. We simply sprinkled some Oregano, Italian Seasonings, finely diced onion, some slice smoked turkey lunch meat, sliced red tomatoes and minced garlic onto that piece of cheese and then rolled it up like a log. We then placed everything into the refrigerator to chill.
I was really expecting this entire process to be difficult, time consuming and hard…I was pleasantly surprised at how easy it was to do and thanks to their great intructions on their web site we had fun doing this and it turned out great! Out of everything we made…the Mozarella Italian Cheese Roll was our favorite and we munched on that until it was gone later that night.
This entire Mozzarella Cheese making & stretching experience was fabulous! Hubby and I made a "date" afternoon of it and really enjoyed ourselves. This is a great activity for those of you who enjoy trying new things or if you home school and need a good kitchen project to do this one would be fabulous.
The cheese that we made that day tasted fantastic! It was a heck of a lot better tasting than that cheese you buy at your local store that has been sitting on the shelf for a few weeks. Can ya all tell how excited I am about this fantastic company and their products? Well, I am! I love this Mozzarella Stretching Kit!
I would like to thank the sponsor for sending me the product(s) to review for all of you and for sponsoring a giveaway here on the fabulous Two Classy Chic's Blog! We love your products!
Disclaimer: Shelly Hill has personally reviewed the product listed above. Shelly has not received any monetary compensation for her review. Shelly did receive a free product to try out so she could evaluate and use it for her review. Her thoughts & opinions in this review are unbiased & honest and your opinions may differ. Two Classy Chics is not responsible for delivery of any giveaway items won from this blog. We are not responsible for injury or mis-use of any products won from the Two Classy Chics Blog. Please read our Terms of Service & Disclaimer Policy before entering our giveaways. Thanks!