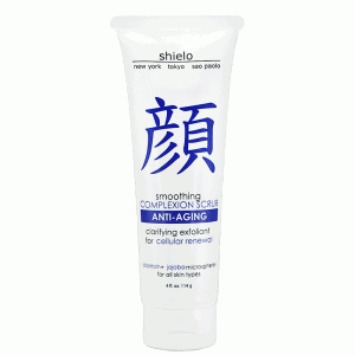 You all know how much I love my skin care products. I just love checking out all of the different formulas And I have found some real winners that I just love and use on a regular basis. I have another beautiful product that focuses on anti-aging and anti-wrinkles for your face that you will enjoy!
Shielo Anti-Aging Smoothing Complexion Scrub is a lovely, easy to use product that will make a difference in your skin in one easy step. This anti aging facial scrub works to lift dead skin cells to reveal a healthier, smoother complexion. It also helps to smooth fine lines and wrinkles, lighten skin discoloration and stimulate cellular regeneration for radiance.
When I first opened the Shielo Anti-Aging Scrub, the first thing I noticed is that this scrub is a bit thicker consistency. The granules are super fine and feel nice on your face. You are not scratching your skin off. That is a plus! There is a very little scent which is great for those that are sensitive to that. The scrub is creamy and feels wonderful on your face. It has a light blue color with little blue beads in it. I have been using it in the shower and a little goes a long way. I have even used the excess on my arms and neck. It leaves my face beautiful and sparkling clean. My face and anywhere else I use it is soft and smooth. I just love it!
The cellular renewal comes from Shielo's key ingredients of non-irritating jojoba micro-spheres that will safely and gently refine skin to a new clarity as well as the fatty acids that revitalize skin. These micro-spheres are excellent for removing blackheads. They also added soothing Allantoin for comforting skin and Aloe Vera Juice that has refreshing vitamins for skin health and renewed complexion.
I am really enjoying this product. I like that it comes in a tube that I can take into the shower and use all over if I want to. The price is not overly expensive so I can afford to keep this one on hand and since a little goes a long way, it is even more affordable.
Swing by and check out the awesome products that Shielo produces. I think that you will like them!
Disclaimer: Chris Carroll has personally reviewed the product listed above. She has not received any monetary compensation for her review but did receive a free product to try out so she could evaluate and use it for her review. Her thoughts & opinions in this review are unbiased & honest and your opinions may differ.