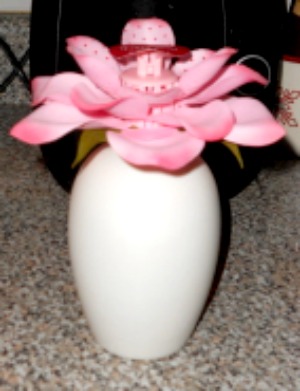 Today I get to talk to all of you about the Valentine's Day Care Package by the great folks over at Hallmark that I received for our review. Hallmark has always been my go-to store when I need gifts and every year during Valentine's Day I look forward to going into my local Hallmark store and picking up a few cards for my friends and family. I always know that whatever I purchase at Hallmark is always appreciated by those who receive the items that I bought.
Hallmark sent me a Valentine's Day Care Package to review for all of you. Inside my beautiful care package was 5 products that are simply just beautiful!
* I received a Blooming Expressions "blooming flower vase" that is absolutely adorable! This item is really a nice size and looks great displayed on a desk, shelf or table. It consists of a plastic vase with a beautiful pink rose inside it. There is a button on the bottom of the vase that turns it on/off. On the backside is a button that you push to get the flower to open up and bloom. Once it has bloomed there is a message inside the center of the flower that says "There's Only One You" which I think is adorable! I decided to give this item to my 26 yr. old daughter and 2 1/2 yr. old granddaughter as an early Valentine's Day gift and they loved it! It now proudly sits on their end table in their living room.
* I received a beautiful Recordable Storybook from Hallmark titled "Love You Forever" which was written by Robert Munsch. This book is beautifully illustrated and I love the storyline! I have wanted one of these books for a super long time and now I have one! I spent an hour one evening reading the instructions and recording myself reading the book. The following day I gave the book to my 2 1/2 yr. old granddaughter as a gift from me (her Nanny). She sat on my lap and opened each and every page of the book and she couldn't believe that she was hearing Nanny read the book but yet my lips weren't moving! ha! She has taken the book home with her and listens to it almost every night before bedtime. I love this book so much that I am going to head to my local Hallmark store as I want to pick up a few more for Easter and her upcoming Birthday. I absolutely LOVE, LOVE, LOVE this product!!!
* I received 3 beautiful Hallmark Greeting Cards to review for all of you and all 3 of them are in a Valentine's Day theme. Two of the three cards are for lovers and couples and the third one is for parents (moms and dads). I love that when I purchase Hallmark cards that I truly know that I am getting a quality product and those who receive Hallmark cards from me, know that I took the time to search out the perfect card for them. When you send Hallmark cards…you are indeed sending the best! I am really looking forward to giving out these Valentine's Day Greeting Cards to those on my "special person's list" come Valentine's Day!  These new greeting cards are part of a new Hallmark line of cards called "Tell Them" and it launches on January 30th, 2012. I love it!!!
I have been purchasing Hallmark products for over 25+ years and I have always been very satisfied with each and every purchase I have made. We have purchased greeting cards, stationary, holiday tree ornaments, collectibles, books, gifts…you name it, we like to buy it from Hallmark!  If you are looking for special Valentine's Day Gifts this year…I would like to suggest that you check out your local Hallmark store or shop the Hallmark store online!
Giveaway: One lucky winner is going to win a Blooming Expressions flower vase and a Recordable Storybook from Hallmark. (no choice on which book you receive and greeting cards I reviewed are not included).
CONTEST CLOSED
Disclaimer: Shelly Hill has personally reviewed the product listed above. Shelly has not received any monetary compensation for her review. Shelly did receive a free product to try out so she could evaluate and use it for her review. Her thoughts & opinions in this review are unbiased & honest and your opinions may differ. Two Classy Chics is not responsible for delivery of any giveaway items won from this blog. We are not responsible for injury or mis-use of any products won from the Two Classy Chics Blog. Please read our Terms of Service & Disclaimer Policy before entering our giveaways. Thanks!