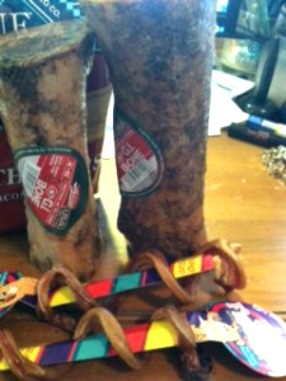 My dog Louie is a reviewer here on our blog and he got to do some fun work this week for our next sponsor. You know he has a tough job and really wants to let you know how much he loves working with us from time to time! Today, he wants to tell you about his dog treats that he got from a online pet food retailer called Mr. Chewy. Mr. Chewy also carries a big section of pet treats and supplies.
Here is Louie – "I got a nice size box in the mail the other day and had a tough decision to make. The folks from Mr. Chewy let me pick out several cool items that I wanted to try and since I love treats, like who doesn't? Mom and I choose some bones, rawhides and a bag of cookies. I had a tough time deciding on what to try first when the box was opened, but the rawhide cows tendon called Flossies Spiral Chews for Dogs looked pretty cool, so I picked that first. I thought the curly part was neat and needless to say it was gone pretty quickly. I liked it and it is good for my teeth too!"
"A day or so later I was able to try out a new bone that is like a giant cows leg or something! It is the Merrick G.I. Bone Dog Chew and it was awesome! It was so wonderful. It even had some of the marrow in there for me to work on and enjoy. I loved chewing on the bone part too. I did almost get in some trouble because one of the dumb cats decided that they were going to sniff my new bone and I told them to get away. It wasn't very nice, but they are always eating my food and stuff, so I had to get a bit protective. HA"
"The last thing that we got was some new dog cookies from Blue Buffalo. Mom chose the healthy ones and honestly, I don't like them so much but I am trying to learn to like them. I know they are good for me but I like my bones better. But I am sure I will see them in my food bowl or something, but its okay. Mom says they are good for me."
"Overall, I am so happy with what I got from Mr. Chewy. What a fun experience! I can't wait until I get to try some new treat and yummy things! Mom says the prices are really good so she will buy me more things from Mr. Chewy's store soon. YAY! I cannot wait. Thanks Mr Chewy for letting me sample some of your delicious pet treats. You sure have a good job too!"
* This post contains affiliate links. If you make a purchase, we may or may not receive a small commission which helps to support this site. Thank you!
Disclaimer: Please read our Official Rules before entering this giveaway. Chris  has personally reviewed these products. I was provided with a free sample of this product to review. I have not received any Monetary Compensation for this review but did receive free products to use & evaluate for the review. Your thoughts & opinions may differ from me. We must receive all entries by the end date of the contest and the odds of winning are determined by the number of entries received. No purchase necessary to enter. All Content on this site is Copyright of the Two Classy Chics – Shelly Hill and Chris Carroll. All Rights Reserved