I pretty much gave up using paper towels last year. I do keep a roll on hand for draining food and that is pretty much it. But as far as using them on a regular basis, I use kitchen towels almost exclusively. My favorite kind of kitchen towel has been the cotton flour sack towels because they are so sturdy and useful. And today I have some awesome towels to tell you about!
There is an online kitchen towel company called The Towel Place and they sent me some fabulous towels to review for you.
Introducing the UnBleached 100% Cotton Flour Sack Towels. Since they have not been bleached, the natural color and creamy texture of the cotton comes thru in this great towel. Wonderful for those that like natural fabrics and stay away from dyes.
These are lovely pure cotton towels that are great for many different uses besides being a great kitchen dish towel. Flour sack towels work better than cheesecloth for many recipes and now you can use a natural product that is durable and reuseable, over and over! Also many crafters have used flour sack cotton towels for needlework, for printing and many other craft projects for years. These are a beautiful, natural choice that last.
I love using these towels because they do not leave lint on glasses. They wash up beautifully and get softer and softer as they age. They absorb water well and are just the prefect choice in towel. I love that these are unbleached. I can use them while cooking without worrying about what is leaching into my food. These are a must in any kitchen. They will save you a lot of money in unnecessary items like paper towels and cheesecloth. Paper towels are a huge expense and I don't miss having to lay out $2 a roll any more!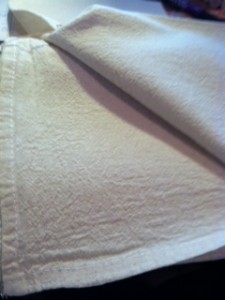 Swing by The Towel place and see all of their other items that they offer. A great site to shop and bookmark for sure!
Disclaimer: Please read our Official Rules before entering this giveaway. Chris has personally reviewed these products. I was provided with a free sample of this product to review. I have not received any Monetary Compensation for this review but did receive free products to use & evaluate for the review. Your thoughts & opinions may differ from me. We must receive all entries by the end date of the contest and the odds of winning are determined by the number of entries received. No purchase necessary to enter.