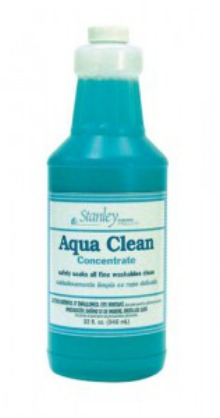 Today I would like to introduce you to the direct sales company called Stanley Home Products which sells a large variety of products for cleaning inside & outside your home as well as personal care products for you and your family. You will find kitchen cleaning products, bathroom cleaning products, carpet & upholstery cleaning products, laundry cleaning products and so much more! They are a Direct Sales Company so if you are looking to make some extra income working from home…check out their home business opportunity information on their web site.
My Review: The generous folks over at Stanley Home Products sent me a bottle of their Aqua Clean Concentrate Laundry Soap for Fine Washables and so since I always have some laundry to do, I got it ready. The directions says for Machine Washing: Use 2 tablespoons (1/8 cup) in top loading machine or 1 tbsp. in front loading machines. Fill machine with cold water and add Aqua Clean Concentrate then launder as normal. So I used 2 tbsp. per load and started washing our clothes.The Aqua Clean Concentrate had nice amount of suds and they rinsed completely away. Our clothing smelled really fresh and not a floral or heavy perfume scent. I like that. After coming out of the dryer, all of the clothes looked very clean with the whites nice and bright and colors were not faded.
I was very pleased that this soap did such as good job. I have heard quite a bit about how good a job the cleaners from Stanley Home Products do and that is evidenced today with my nice, clean smelling laundry. My hubby and I are both happy that it is not overly perfumed; just a nice refreshing, clean laundry scent. This product is enough for 32 loads and it will safely soak all fine washables clean in three minutes. No shrinking, no stretching, no fading! This great product eliminates costly dry cleaning of fine washables. And it is concentrated, so you use only 1/2 as much as the leading cold water wash. I like that is is biodegradable and phosphate-free.
Stop by and see all of the Stanley Home Products that are available for your cleaning needs. They have a great selection of products are wonderfully affordable prices!
I would like to thank the folks at Stanley Home Products for sending me the product(s) to review for all of you!
Disclaimer: Shelly has personally reviewed the product listed above. Shelly has not received any monetary compensation for her review. Shelly did receive a free product to try out so she could evaluate and use it for her review. Her thoughts & opinions in this review are unbiased & honest and your opinions may differ. Two Classy Chics is not responsible for delivery of any giveaway items won from this blog. We are not responsible for injury or mis-use of any products won from the Two Classy Chics Blog. Please read our Terms of Service & Disclaimer Policy before entering our giveaways. Thanks!