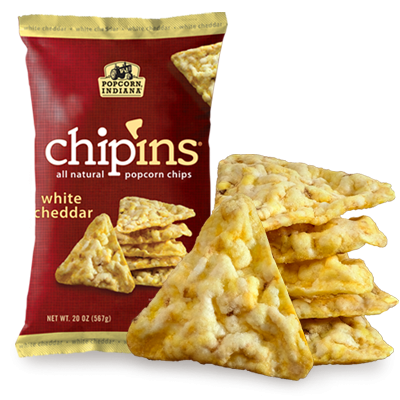 Just like many other families, during football season, we are watching and following our favorite teams on TV. Sunday is game day and that can include friends and family at the house for a nice afternoon of ball. And healthy snacks are definitely on the menu.
We were sent 3 bags of the new Chip'ins from Popcorn, Indiana. There were 3 flavors for us to try; the Sea Salt, White Cheddar and Buffalo Wing. These look like tortilla chips but are so light and airy! These are actually Hot Air Popped Popcorn that is put into chip shapes. You can so tell that these are not fried, just a light healthy popcorn snack chip. Kinda cool!
We had a few friends over watching the game the other day and my son had his friends over too, so this was the perfect time to try out some new snacks. We tried the Sea Salt one first. They are nice and crispy with the right amount of salt. You taste the popcorn chip not a bunch of oil and chemicals. We then tried the Buffalo Wing. This one has a bit of a spicy taste, but not overly hot. It has a nice punch of flavor and we enjoyed them.
The last one is the Cheddar. This too was a good taste with the right amount of flavoring to it. Light and very snackable. The kids loved the Buffalo Wing the best, I preferred the Sea Salt and my hubby and son like the Cheddar a lot. I think the company enjoyed them all too, because everything was demolished pretty quickly! That's usually a pretty good sign, LOL
What I really love about these chips is that the flavors allow you to save on calories by not having to had a dip to enjoy them. I love that they are a healthy snack alternative to regular fried chips. And the assortment of flavors is great too. I would have loved to try the Jalapeno ones, so I am going to keep my eyes out for them in the store and make sure to grab a bag.
There are 4 flavors of Chip'ins that allow you to Munch better™ with Popcorn, Indiana. Give them a try and see what you think!
Sea Salt Chip'ins
Buffalo Wings Chip'ins
Jalapeño Ranch Chip'ins
White Cheddar Chip'ins
Disclaimer: Chris Carroll has personally reviewed the product listed above. Chris has not received any monetary compensation for her review. Her thoughts & opinions in this review are unbiased & honest and your opinions may differ.