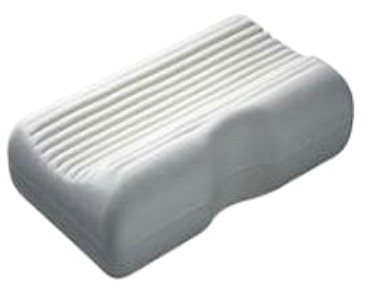 Today I would like to introduce you to the company called Denton's of Australia. This company is the #1 pillow company in Australia and now their fantastic high-quality products are available in the United States! yeah! The Denton's of Australia products would make the PERFECT Holiday Gift to several people on your gift-giving list this year!!! The gift of "great sleep" is always a "great" gift!
My Review: The generous folks over at Denton's of Australia sent me their Medirest Therapeutic Pillow to review for all of you. Since I suffer with chronic back pain, neck pain and shoulder pain…I was really excited to review this new pillow for you. This Medirest pillow is recommended by Physiotherapists and Chiropractors so you know it has got to be good!
Information about the product: The Medirest Therapeutic Bed Pillow has 2 covers with the outer cover having a zipper closure so that you can remove it for cleaning. The pillow features optimal neck support because of the front and back edge rolls on the pillow so it is geared towards "side sleepers" like me. The shoulder recess encourages you to stay on your side while sleeping and the waved surface of the pillow provides "airflow" passage while you sleep. With your head in the contour and your neck positioned on the raised edge roll, you receive the best therapeutic support and the ideal posture for correct spinal alignment.
My Thoughts: I have been using this pillow every night since receiving it. It has 2 covers which I really like because I can remove the outer one and wash it when it needs cleaning plus this outer cover is well-made and has a zipper closure. This is a firm pillow but not overly-firm where it would be uncomfortable so I think the firmness is just perfect. I was pleasantly surprised that the pillow isn't heavy which I was afraid it would be…but it's not. Anyway…it is the perfect size for adult men and women which I also appreciate because sometimes pillows can be small and floppy…this one is not that!
* This post contains affiliate links. If you make a purchase, we may or may not receive a small commission which helps to support this site. Thank you!
The first night or two I had to adjust to my new pillow which is common but when the third night rolled around it felt like I had been sleeping with this pillow for decades. I have a rare medical issue called Trigeminal Neuralgia and it is really bad on my right side of my face so I can not sleep on my right side. Now that I am using this pillow it keeps me laying on my left side which is fantastic because anytime I would accidentally roll onto my right side the pain would wake me up and set me off into pain-misery for hours at a time! In addition…I can personally tell you that I have had less shoulder pain, less neck pain and fewer migraine headaches since switching to this bed pillow. (now…I am not promising you that you would get the same relief but I am telling you that this pillow is helping me with my chronic pain problems!).
Overall Impression: I am in love with my new bed pillow! I drag it with me all over the house! When I am laying on the sofa…so is the pillow. If I am snuggled up in the recliner…so is the pillow and when I go to bed at night…the pillow is under my head! Seriously…this is a fabulous pillow! It has the perfect firmness for me and I don't feel like my head is lost in it at all. It is extremely comfortable and my head, neck and shoulders totally feel supported when I use it. I give the pillow 10 stars out of 10 stars!
Disclaimer: Shelly has personally reviewed the product listed above. Shelly has not received any monetary compensation for her review. Shelly did receive a free product to try out so she could evaluate and use it for her review. Her thoughts & opinions in this review are unbiased & honest and your opinions may differ. Two Classy Chics is not responsible for delivery of any giveaway items won from this blog. We are not responsible for injury or mis-use of any products won from the Two Classy Chics Blog. Please read our Terms of Service & Disclaimer Policy before entering our giveaways. Thanks!