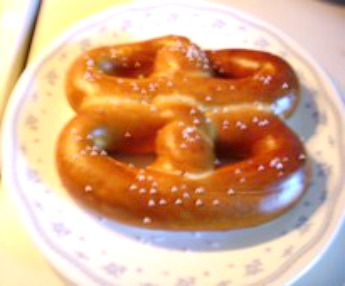 Today I would like to introduce you all to the gourmet foodie company called San Diego Pretzel Co. which has been in business since 1995. The company is owned by Harris Golden, the head pretzelogist (master chef and baker). If you love gourmet soft pretzels you will love the pretzels from San Diego Pretzel Co.
My Review: I received an 8-pack bag (four pairs) of 5.5 ounce Twisted Traditional Philly Soft Pretzels to review for all of you. These pretzels are all natural, made with premium ingredients, hand twisted, low in fat, no trans fat or hydrogenated oils and there are no preservatives in them! They retail for $15.45 + $10.50 shipping.
Here is some information about them from their web site:  "We've taken our finest authentic Bavarian pretzels, and made them in the classic Philadelphia style to achieve that dense flavor and incredible chew. The Philly pretzels are rolled in pairs to ensure you always get an "end" pretzel."
My order was simple to place and it was shipped quickly to my home. Matter of fact, I received my order within 3 days! Gotta love super fast shipping! Once they arrived I read the instructions and hubby and I decided to enjoy a pretzel right away. I lightly brushed some melted butter across one side of the pretzel and then sprinkled on the pretzel salt (salt is packaged in a little reusable bag). I then placed the super large pretzel for two on a plate and microwaved it on high for 1 minute. Once done, we snapped the pretzel in half and got busy trying out our new pretzel.
These pretzels are absolutely delicious! I love that they are NOT frozen, freezer burnt pretzels! They are shipped fresh to your door…you can refrigerate them or freeze them, that is up to you. They only take 1 minute to make (you are basically reheating them) and they make the perfect snack! They are super soft, chewy, flavorful, over-sized and well…delicious! We love them and this company has 2 new fans!
I would like to thank San Diego Pretzel Co. for sending me the product(s) to review for all of you! We love your products!
Disclaimer: Shelly Hill has personally reviewed the product listed above. Shelly has not received any monetary compensation for her review. Shelly did receive a free product to try out so she could evaluate and use it for her review. Her thoughts & opinions in this review are unbiased & honest and your opinions may differ. Two Classy Chics is not responsible for delivery of any giveaway items won from this blog. We are not responsible for injury or mis-use of any products won from the Two Classy Chics Blog. Please read our Terms of Service & Disclaimer Policy before entering our giveaways. Thanks!