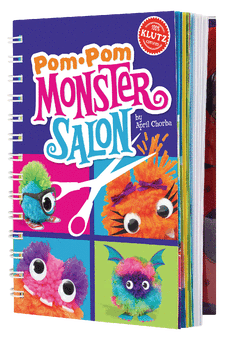 Today is another great review & giveaway for our Holiday Gift-Giving Guide! I would like to talk to you about a company and their products which I think are absolutely fantastic and these craft products and kits are perfect for kid's birthdays, school crafts, scouting crafts, holiday gifts, party favors, you name it…these children's craft kits are fabulous!
The craft kits are made by a company called Klutz and they make a large variety of kid's craft kits like jewelry-making kits, rubber stamping kits, face painting kits, needle craft kits, painting kits, drawing kits, window art kits and so much more. Trust me…they have hundreds of craft kits that they sell and most of them are really unique ideas! One of the things I appreciate in regards to these kits is that you can purchase "refill supplies" after your children use up the supplies that are included in each kit.
My Review: Today I am reviewing 3 great craft kits by Klutz. First up…the Stamp Art craft kit that contains the spiral bound book, 1 clear stamping block, 64 clear stamps, black ink pad and 3 double-sides colored pencils (six total colors). This kit's clear stamps are done in a variety of shapes and the book & instructions teach you how to put the shapes together to create pretty flowers, various animals, sea life, aliens & planets, foods, zoo animals, etc. The directions are very easy to follow and it teaches you step by step how to do this. I sat down to do this with my 10 year old nephew and we had a blast! Check out this cute  CRAB that we made together? Isn't he cute? It took us less than 10 minutes to stamp him and color him in.
We also got to review the Pom-Pom Monster Salon craft kit which includes yarn, pom-pom maker, wiggle eyes, foam facial features, ribbon bows, tube of liquid glue, various card stock cut-outs to accent your pom-pom creatures and more! I spent about 10-15 minutes reading all the directions in the book and then got busy making this adorable purple pom-pom creature. I named her "Purple Peter Eater" LOL and check out those shoes! I made the purple pom-pom first, glued on the wiggle eyes and pink tongue and then finished up gluing on the purple sneakers and lime green hair bow. Super cute and so easy to make! You can make several pom-pom animals, creatures, etc. just with this one kit and everything is included but the scissors!
Finally…we got to review the new Twisted Critters craft kit which is super fun! The kit comes with over 70 different types of pipe cleaners in a variety of colors along with the spiral bound instruction book. The book teaches you step by step how to make various creatures & animals using the included pipe cleaners and rolling them, twisting and attaching them to one another to create these special designs. We had a blast with this kit with my 10 year old nephew and 11 year old god son! Sorry, I forgot to take a photo of their pipe cleaner creatures before they took them home! ugh! (trust me, they were cute!)
Overall Impression: We love the craft kits from Klutz! I love that almost (if not everything) that you need is included with the kit. Each kit has a large instruction book that is spiral bounds and is really easy to read & understand. These kits are great for kids of all ages and I think even adults will enjoy them. As a crafter myself, I really appreciate the ease of use and the cute things you can make with the Klutz kits!
* This post contains affiliate links. If you make a purchase, we may or may not receive a small commission which helps to support this site. Thank you!
Disclaimer: Shelly has personally reviewed the product listed above. Shelly has not received any monetary compensation for her review. Shelly did receive a free product to try out so she could evaluate and use it for her review. Her thoughts & opinions in this review are unbiased & honest and your opinions may differ. The Two Classy Chics are not responsible for delivery/shipping of giveaway items won from this blog nor are we responsible for mis-use or injury caused by items won from the TCC Blog. Copyright 2010-2011, All Rights Reserved.