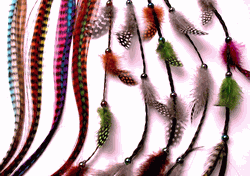 Today I would like to introduce you to the company called Lindo who sells a variety of health and beauty products like the Twist-N-Roll Tweezers (which we previously reviewed), SwirlyDo Hair Ties (which we previously reviewed) and today we are reviewing their Lindo Clip-in Hair Pieces featuring real and synthetic feathers! If you have been following the Hollywood trends…you know how hot of a trend hair feathers is this season! Now here is your chance to learn more about them and enter our fabulous giveaway for a chance to win some!
Our Review: My mother volunteered to be my hot & sexy feather model for this product review so lets all give mom a great big "applause". These feathers are super easy to use…you simply pick out the style you like, the color you like and then clip it into your hair! Yes folks, it takes about 2 seconds at home to get the HOT & TRENDY feather look in your hair! You can pick feathers that blend in more or pick some of the funky colored feathers so that they really stand out.
These easy to use clip-in feather extensions can be trimmed down to the length you want, they can be left in your hair when you wash your hair and you can use low-heat on your hair while blowing your hair dry or use the low-heat setting on your curling iron to style them. I didn't trim down the length as I wanted them to show up well for my photos…so that you could easily spot them & see them. Aren't they cute? My mom loves them!
They have several different types, styles, colors and lengths for you to choose from. You can get french braid ones with colored feathers, short clip-in feathers with chains and then the long super trendy feathers in colors or in neutral tones. These are fabulous! You save a boatload of money by doing these at home yourself instead of going to a high-price salon!
I would like to thank Lindo and the PR company I am working with for sending me the product(s) to review for all of you! We love your products!
Disclaimer: Shelly Hill has personally reviewed the product listed above. Shelly has not received any monetary compensation for her review. Shelly did receive a free product to try out so she could evaluate and use it for her review. Her thoughts & opinions in this review are unbiased & honest and your opinions may differ. Two Classy Chics is not responsible for delivery of any giveaway items won from this blog. We are not responsible for injury or mis-use of any products won from the Two Classy Chics Blog. Please read our Terms of Service & Disclaimer Policy before entering our giveaways. Thanks!