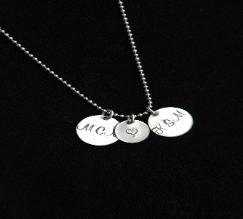 I would like to introduce you to the personalized jewelry company called Two Girly Girls which is owned by partners, Dawn and Alison. They are two Moms who, after their youngest children were born, decided to nurture a different kind of baby. That's when TwoGirlyGirls was born. They sell customized sterling silver charm necklaces and bracelets. All of their charms are hand-stamped, and custom ordered.
My Review: Today I am offering my review of the TwoGirlyGirls Sterling Bling! Necklace to all of you. Upon opening up the package, I was immediately impressed with the cute gift-wrapping that includes a tag (that can have your indicated message written on it), and the bright red cloth ribbon around the star-shaped box.
The Sterling Bling! necklace is a 1.5 mm ball chain, 16″ in length, with a sterling silver disc that measures 1/2″ and holds a maximum of 7 letters or numbers. I was sent this necklace with two discs, one standard 1/2″ size, and one slightly larger measuring 9/16″ which can hold up to 8 letters or numbers. I chose to put a 2 part sentiment on the discs that came with my necklace.
Wearing the necklace, the first thing I noticed is how light weight it was, even with two charm discs on it. The chain is quite delicate, yet strong, and I hardly feel it around my neck. The other thing is it stays put, not turning on my neck. The closure stays in the back, which is nice because I don't have to constantly re-adjust it. The hand-stamped discs, and the chain are so shiny, but they come with a cleaning cloth to wipe any tarnish that might develop, though I haven't had to use it yet.
What is so special about these pieces is they are unique to each individual who owns them. Personalized jewelry is just that, personal. The fact that they are hand-stamped, not machine engraved adds to that customization. No two pieces are the same. The Sterling Bling! necklace, or any of the TwoGirlyGirls products make a special "one of a kind" gift for someone else, or even for yourself. You can purchase the Sterling Bling! necklace, which comes with one 1/2″ disc for $35.00. Additional discs, or a longer 18″ chain are also available.
Thank you to TwoGirlyGirls for sending me their necklace to review for all of you! I love my personalized keepsake!
Disclosure: Complimentary sample was received. No monetary compensation was provided. Lauren's opinion is 100% her own thoughts.