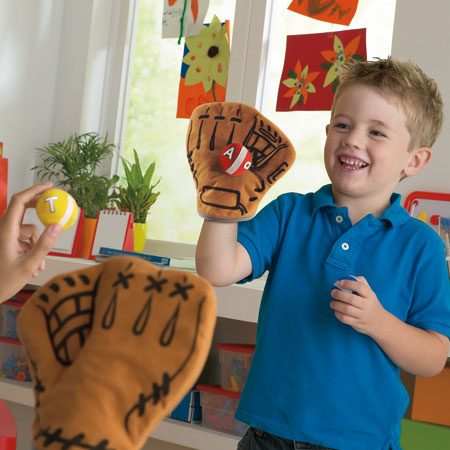 Today I would like to introduce you to the company called Educational Insights based out of Southern California. Educational Insights is the manufacturer of playful products with serious educational value, including subject-specific classroom products, teacher resources, educational toys, and games. Their products are designed by seasoned educators & parents who know that children love to learn when you make that learning experience fun!
When you visit the Educational Insights online web site you will find that it's really easy to navigate. The web site has three tabbed categories which are the sections for Parents, Teachers and Classroom Jeopardy. Since I am a mother and grandmother…I could spend hours just browsing around their parent's section of the web site.
My Review: Today I am reviewing for all of you the Alpha Catch Fast-Action Phonics Game by Educational Insights. This game is geared towards children ages 4 years and up. It is a great language arts game that is a fun, physical game that helps to build alphabet awareness and phonics skills. The game includes: 4 catcher's mitts, 26 soft self-stick alphabet balls featuring upper & lowercase letters and a wonderful teacher's guide with 7 interactive games.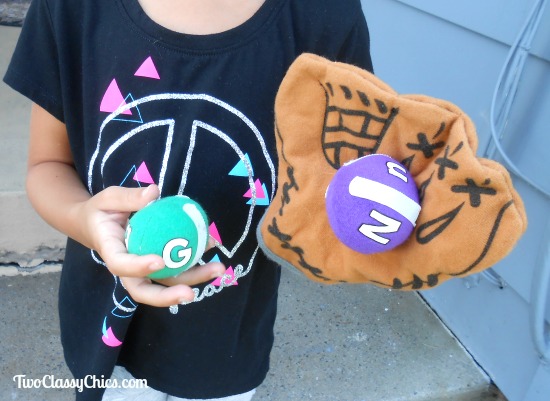 Our one grand-wee-one is 2 years old but he is advanced for his age and he does know a lot of the alphabet and can count to 25 already. We also shared this game with our 7 year old granddaughter. We thought this would be the perfect game for both of them so we were excited to review it. The catcher's mitts are double-sided so they can be used by both left-handers and right-handers and they are perfectly sized for children's little hands. The balls are super soft so this game can be played indoors or outdoors and we love how brightly colored they are. If you have a wee one who is not quite ready for the alphabet learning aspect of this game you can certainly use this game to help teach colors to preschoolers. There are 7 games with this hands-on phonics game which are as follows: (1) Letter Line Up (2) Ace the Sounds (3) Beginning Sounds Catch (4) Ending Sounds Catch (5) Middle Sounds Catch (6) Word Catch and (7) Round Robin, all games are explained in the teacher's guide inside the box.
Since our grand-wee-one is only 2 1/2 years old we did the Letter Line Up game with her. She had a blast trying to catch the balls in her mitt and then telling us the letter on the ball she caught. She did pretty good with this which was surprising since she is only 2 1/2 years old. We also made up our own game of "name the colors" because she is a little too young for the other games that you can play with this set. Overall…we had a fun time that afternoon playing Alpha Catch with her! We look forward to playing this game for years to come as she grows into it. I love that there are 7 games you can play (plus make up your own) and all of the pieces are high-quality. Another fabulous Educational Game by the great folks over at Educational Insights.
I would like to thank Educational Insights for sending me the product(s) to review for all of you! We love your products!
You can purchase the Educational Insights Alpha Catch Phonics Game
from Amazon directly for a really great price!
* This post contains affiliate links. If you make a purchase, we may or may not receive a small commission which helps to support this site. Thank you!
Disclaimer: Shelly H. has personally reviewed the product listed above. Shelly has not received any monetary compensation for her review. Shelly did receive a free product to try out so she could evaluate and use it for her review. Her thoughts & opinions in this review are unbiased & honest and your opinions may differ. Two Classy Chics is not responsible for delivery of any giveaway items won from this blog. We are not responsible for injury or mis-use of any products won from the Two Classy Chics Blog. Please read our Terms of Service & Disclaimer Policy before entering our giveaways. Thanks!