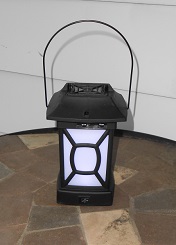 Today I would like to introduce you to a product that I received about a week ago and it's a product that I feel every home should own! Today…I am going to talk to you about the ThermaCELL Mosquito Repellent Patio Lantern!
This ThermaCELL patio lantern is up to 98% effective at repelling biting insects, especially those nasty critters we call mosquitos! The lantern is effective within a 15 x 15 foot area…which is a nice size especially when you are using this pool side or on your patio deck. There are no open flames, no smelly oils or chemicals to deal with which I think is perfect!
The ThermaCELL Patio Lantern comes with:
* The Lantern
* One Butane Cartridge (lasts up to 12 hours)
* 3 Insect Repellent Mats (lasts up to 4 hours each)
You will need to supply 4 AA batteries.
Our Review: The patio lantern is really easy to use so once you insert the batteries, the butane cartridge and the insect repellent mat into the lantern…you are ready to go. We like to sit out on our patio deck with the neighbors during the summer months or sit out by the pool…in the evening the mosquitos and flies can get pretty bad around here so we decided to test out the Thermacell Lantern while sitting out on the patio a few nights ago.
What I really like about this lantern is that it's light-weight and easy to use. You can use just the "light" part of the lantern or just the "repellent" part or use them together…whatever your needs are that day, this lantern can accommodate them. I like that the lantern has a carrying handle so that I can just pick it up and take it around the yard as I need it or I can hang the lantern on a hook or yard stake via the handle. The light that emits from the lantern is not too bright but yet..not too dim, I would say it emits a nice "soft glow"…enough for you to see but not enough to read a book by it. It is made of durable plastic so if you accidentally drop it, I don't think you would have breakage problems and if you did, you wouldn't have shattered glass to clean up.
We sat outdoors 2 evenings last week using the lantern and I must say, I am really pleased with it. No one in my family got any insect bites while we were sitting outside…absolutely NONE and I didn't have to spray us down with insect repellent. I give these ThermaCELL patio lanterns a huge thumbs up! I would love to see them come out in even more designs to match various yard and pool area decor.
* This post contains affiliate links. If you make a purchase, we may or may not receive a small commission which helps to support this site. Thank you!
Disclaimer: Shelly has personally reviewed the product listed above. Shelly has not received any monetary compensation for her review. Shelly did receive a free product to try out so she could evaluate and use it for her review. Her thoughts & opinions in this review are unbiased & honest and your opinions may differ. Two Classy Chics is not responsible for delivery of any giveaway items won from this blog. We are not responsible for injury or mis-use of any products won from the Two Classy Chics Blog. Please read our Terms of Service & Disclaimer Policy before entering our giveaways. Thanks!