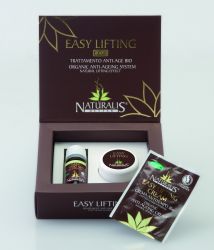 I received some really fun skincare items in the mail the other day. These are from a company that carries all natural Certified Organic Skincare products from Italy by a company called Naturalis and sold in the US and Canada under the name Organic Natural Beauty.
I am always interested in skincare items that come from Europe because they are so much more ahead of us in terms of ingredients that fight anti aging and anti wrinkles. These products are right in line with that by creating Aloe Vera & Olive Oil natural skincare.
I was able to review the Organic Natural Beauty Easy Mask by Naturalis. This mask, which you use for 10 minutes, can provide a natural lifting action that helps eliminate signs of aging and crows feet around the eyes leaving the skin soft, silky and radiant. This product contains Certified Organic WHEAT GERM OIL and Certified Organic ALOE VERA OIL. These are directly produced organic Aloe Vera extract and organic Wheat Germ oil, starting from their own organic farming. You can read more about the organic ingredients and process on the Organic Natural Beauty site.
I opened the box and found a packet of the Naturalis Easy Cream Organic Anti Aging Cream and a small bottle of liquid and a small jar containing the cloth type mask. I poured the liquid into the jar holding the cloth mask and it immediately absorbed the liquid. I made sure it was all soaked in and then I open the mask and applied it to my face. Now this was a bit humorous as I looked like.. well, lets just say I would not let anyone see me like this… scary!
* This post contains affiliate links. If you make a purchase, we may or may not receive a small commission which helps to support this site. Thank you!
After the mask was on for 10 minutes or so, I removed it and applied the Anti Aging cream. This had a lovely scent and went on like a dream. It absorbed very well and several hours later my skin still looked and felt great. I have lots of crows feet and they were very much improved from the application. I can really see a difference and that is awesome for one use. Using something like this on a regular basis can really improve your skin.
I really like the fact that this product is all natural and with using the aloe vera and olive oil, it really makes a difference in the appearance of your skin. I would use this product again in a heartbeat. I really enjoyed the great feeling of the product… the mask itself, not so much. LOL
A special thank you to Organic Natural Beauty for letting me review your product.
Disclaimer: Chris has personally reviewed the product listed above. She has not received any monetary compensation for her review. She did receive a free product to try out so she could evaluate and use it for her review. Her thoughts & opinions in this review are unbiased & honest and your opinions may differ.