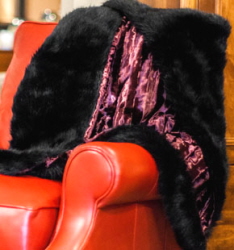 Today I would like to introduce you to the company called PoshPelts who sells some of the most luxurious faux fur products that I have ever seen! PoshPelts are luxurious, affordable, animal-friendly, decorative, easy to care for and they make exquisite gifts.
The luxury faux fur throw blankets come in several different styles: Russet Chinchilla, White Cougar, Red Fox Tail, Black Bear, Double-Sided Chinchilla, Artic Fox, Raccoon and Leopard. Prices vary according to the style of faux fur throw that you select.
For the purpose of this review, I was sent a complimentary Black Bear Faux Fur Throw to check out for all of you. I have to admit, it couldn't of arrived at a better time and it arrived the day I came home from the hospital. It was super nice to snuggle up in it as I was recovering from surgery!
The throw is slightly over-sized and measures 45″ by 65″ long…really a perfect size for an adult. All of their throws are easy to care for so you can simply machine wash it on the gentle cycle when needed.
One side of the faux fur throw is done in the plush black bear faux fur and the other side is done in an elegant dark burgundy backing material that is just as soft as the faux fur size. When the light hits the throw…it just dances off it and all of the fibers just glisten and glow. (hard to describe but that is the best that I can do).
While the throw is not bulky and super heavy…it does give you plenty of warmth. Matter of fact, I have been sacked out on the sofa for over a week and it has been the ONLY blanket on me. I love how soft it feels against my dry skin and it just is very comforting to me as I heal from surgery.
This luxurious faux fur throw blanket is regularly priced at $249.00 but is currently on sale for only $199.00. Wow…great treat for yourself or to give as a special gift! The company will also accept custom-made orders for those who want to place larger quantity orders with them.
I am really "IN LOVE" with my new throw blanket and I am really excited that we could feature this fabulous company and their wonderful faux fur products here on our Two Classy Chics blog. Head on over to PoshPelts.com and check out all of their fabulous products!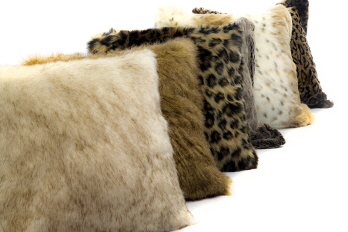 Giveaway: One lucky winner is going to win a luxurious faux fur pillow cover, up to $31.00 in value! You will love it! Seriously, you will flip for this prize is you are the winner! Fabulous! (the artic fox pillow cover is EXCLUDED).
Giveaway Details: This giveaway is open to residents of the US ONLY age 18 and over. Please read our Terms of Service & Disclaimer Policy before entering. This giveaway will close on June 9th, 2013 at 11:59 pm EST time. No purchase necessary to enter or win.

Disclaimer: Shelly Hill has personally reviewed the product listed above. Shelly has not received any monetary compensation for her review. Shelly did receive a free product to try out so she could evaluate and use it for her review. Her thoughts & opinions in this review are unbiased & honest and your opinions may differ. Two Classy Chics is not responsible for delivery of any giveaway items won from this blog. We are not responsible for injury or mis-use of any products won from the Two Classy Chics Blog. Please read our Terms of Service & Disclaimer Policy before entering our giveaways. This giveaway is not affiliated with Facebook or Google+ in any way. Thanks!
I am old fashioned in many ways, I think. While I live on email and all of the techy advances, I love to receive and send cards in the mail. It is a thoughtful and easy thing to do. I always make sure to have plenty of beautiful blank note cards on hand for an easy way to say Happy Birthday, Thinking of You or even In Sympathy. There are so many reasons to send a card. I just love them. So I was excited to be able to review a lovely set of cards from an etsy artist today.


Laura Roberts is the artist and proprietor of HastyPearl Etsy Shop where she offers items she has created with vintage parts. She also does watercolor on rice paper and I was sent a beautiful Hand Painted Watercolor Note Cards 4 Card Set. These Hand Painted cards are just so pretty. They are in a soft lime, gold, yellow and orange pallet with some hints of gold shimmer paint to add a bit if texture and sparkle. So pretty and much better in person since the computer and camera cannot pickup the subtle colors.
I also love the size of the cards. They are a nice 6.5″ x 5″ with a white border and a blank inside. HastyPearl makes each card by hand. They are painted, cut and finished all by hand. You can use these for just about any reason, even framing them for wall art. Because they are hand painted, no two cards are alike and they come hand signed by the artist. They would make a beautiful gift for someone that loves hand written cards and they come ready for giving too.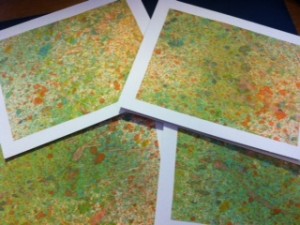 HastyPearl also offers many other items in their shop too. Fiber Art products, jewelry boxes, mixed media and more. If you enjoy this type of art, you have to see Laura's shop! I think you will enjoy her collections.
The Giveaway
We are excited to share with one winner a beautiful set of Hand Painted Watercolor Cards, much like the ones I got. Here is how you can enter!
Giveaway Details: This giveaway is open to US Residents age 18 or over. You must complete the Mandatory Entry to be eligible. This giveaway will close on June 9th, 2013 at 11:59pm EST Time.
Disclaimer: Chris Carroll has received no compensation for this post but was given free product for posting this giveaway. Her opinions and words are her own. Your thoughts & opinions may differ. Please read our Official Rules before entering this giveaway. We must receive all entries by the end date of the contest and the odds of winning are determined by the number of entries received. No purchase necessary to enter. All Content on this site is Copyright of the Two Classy Chics All Rights Reserved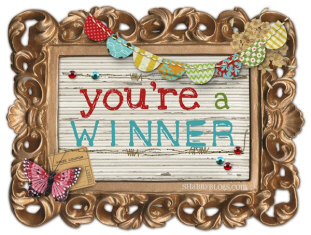 We would like to say that we are praying for everyone in Oklahoma that was affected by the horrible tornados the past two days. You all are in our thoughts and prayers. Please stay safe as today is supposed to be another terrible weather day in that area.
Anyway, We had a few giveaways close late last night so we do have winners to announce this morning. As always, we spend time every morning validating entries, trashing out the cheater entries and then randomly select a winner using random.org. We then double check that persons entry to make sure it's legit and then finalize it.
Winners for the Soft Scrub Giveaway are: Sarah L. and Betty D.
Winner for the Dogs ID dog product giveaway is…  Cheryl C.
Congrats to all three of our winners this morning! I will be sending each of you an email shortly, so that you can claim your prizes. Have a great day everyone!
Summer is on the way and what are you planning to do with the kids? Boredom sets in about day 3 and summer can seem like it lasts forever! Well, we have a cool giveaway event that will be happening in June to spoil 5 lucky winners with some cool prizes to help keep their kids motivated this summer. If you own a blog and would like to participate, the sign up form is below. Please mention TwoCLassyChics as your referring site. Thanks!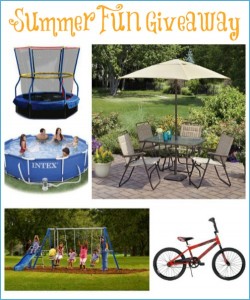 Summer Fun Event
Organized by: Iowa Mom
Prizes Include: Skywalker Bounce-N-Learn Trampoline, Intex 10′ x 30″ Metal Frame Swimming Pool, Glenmeadow 6-Piece Folding Patio Dining Set with Umbrella, Flexible Flyer Swing Free Metal Swing Set & 20″ Huffy Rock It Boys' Bike. *5 winners*
Event dates: 6/10 – 6/24