This coming week, we have some fabulous product reviews and giveaways that you are going to enjoy! Today, we are sharing just a tease of what we will be posting this week.
Please follow our blog via our daily email newsletter via Feedburner to keep up with us and follow our blog by liking us over on Facebook or Twitter for the most up to date info on publications!
Some of the general reviews and/or giveaways coming up this week:
Beauty & Cosmetic Products
Skincare Products
Bath & Body Products
Unique Clothing for Women
Gourmet Tea (beverage) Products
Kitchen Products & Kitchen Accessories
Wicker Plant Stands
Book Reviews & Book Giveaways for Adults
DVDs, Toys and Games for Kids
Jewelry and Accessories for Women
Toothbrush & Toothpaste for Kids
Health & Wellness Products
Hand Painted Watercolor Note Cards
Faux Fur Throws & Pillow Covers
The above is just a "sampling" of the fine reviews and/or giveaways that we will be publishing on the Two Classy Chics blog this week! We will be surprising you throughout the week with some additional goodies that are not mentioned in this post…after all, we need to keep things interesting & exciting around here! Yay!
Shelly & Chris and the TCC Product Review Team
It is amazing to me the amount of products we have in the US that have been created with non toxic, chemical free ingredients for a hundred or more years. I have to tell you, I have heard of Bon Ami but never knew anything about and I have never tried it before so when I was offered a chance to review it, I figured I was getting a regular cleanser like I have used for years. I could not have been more wrong.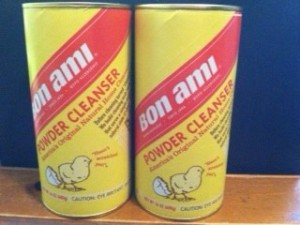 Bon Ami is America's original natural home cleaner. People have been turning to the cleaner's non-toxic formulas for more than 125 years now — it's a true American icon. Bon Ami has a family of products from Powder Cleanser, that is made from vegan, plant-based cleaning agents, to dish soap. Their ingredients are simple, effective and proudly listed right on the package. Plus, Bon Ami is always biodegradable, nontoxic and hypoallergenic and the plastic bottles are made from 100% post-consumer recycled plastic so may look different than other packaging. I never knew!
I have seen Bon Ami Powder Cleanser in the stores every so often, but when I did see it, it was placed on the top shelf with the silver polish and items like that. So, I naturally figured it was a silver cleaner. When I opened the box, I read the can and was happy to know that this is a powder cleaner that can be used for so many different applications. I have used powder cleansers all my life, but the ones loaded with bleach and other caustic chemicals. Bon Ami has none of that and it only has 5 ingredients. The original formula is still available in their 1886 label product, but the Powder Cleanser has been updated slightly for contemporary kitchen surfaces, with different products to meet different cleaning needs. But never fear, Bon Ami is always biodegradable, nontoxic and hypoallergenic.
I wanted to give this cleanser a work out since it was new to me so I took it to the worst place I had; the toilet. We have hard water where we live and this can run havoc on the toilet. I have to use a pumice stone sometimes on the hard water stains. So what better place to try this. I sprinkled the power liberally throughout the bowl and let it sit for a minute. I then scrubbed and rinsed. I have to tell you, the first thing I noticed there was no residue at the bottom of the bowl. That was a first! The bowl was shiny clean and I did not even have to scrub hard at all. I have broken bowl brushes before trying to scrub out the bowl. Gross, I know… but this product is cool.
So, that was a great test. I figured that the shower was next. It is not fun place to clean either and the Bon Ami did a wonderful job too! I really like that I don't need to rinse and rinse to get rid of the grayish residue that is left over after scrubbing. Plus, knowing that this product has no chemicals that are going down the drain or that are ending up on our skin is a nice feeling.
I went to their site to read about the company and their line and I was surprised at all of the different uses of these products that people have had success with. One of the most mentioned is the use of Bon Ami on Windows and Stainless. Many people use this product on cars for a fabulous finish to shine the windows.
I really have had my eyes opened with this product. You can bet that my other powder cleansers are out the door and this one is staying! The Bon Ami is a earth-friendly polishing cleanser and powder that you can trust and the fact that it works is a huge plus! YAY Now I have to find it in my store and I am going to try out their other cleansers too. Great to know that something so simple is effective and has been around for over 100 years!

Disclaimer: Chris Carroll has personally reviewed the product listed above. She has not received any monetary compensation for her review but did receive a free product to try out so she could evaluate and use it for her review. Her thoughts & opinions in this review are unbiased & honest and your opinions may differ.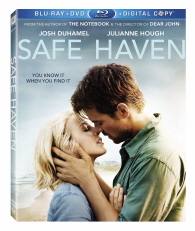 Recently released on Blu-ray DVD is the movie called "Safe Haven" starring Josh Duhamel and Julianne Hough. The new Blu-ray 2-disc set includes: an alternate ending, deleted scenes, a behind-the-scenes set tour and more!
DVD Synopsis: Josh Duhamel and Julianne Hough star in this spellbinding romantic drama based on the novel by best-selling author Nicholas Sparks (The Notebook). When a mysterious, beautiful woman named Katie (Hough), moves to Southport, North Carolina, she sparks the interest of the locals, especially Alex (Duhamel), a handsome widower. Although she is attracted to Alex, Katie is reluctant to trust him – that is, until a new friend (Cobie Smulders) convinces her to give Alex a chance. But before long, a dark secret from Katie's past threatens her happiness in this thrilling romance directed by Lasse Hallström (Dear John).
My Thoughts: As you all know…I am more of your action-flick type of chic and I usually stay clear of sappy romances. With that said, after hearing a lot about this Safe Haven movie I decided that it was a movie that I wanted to see, especially since it starred the hot-looking Josh Duhamel.
While this movie is definitely a romantic movie…there is plenty of drama and mystery in it to keep your attention. Katie at first seems to be a delicate butterfly but as the story goes on, you realize that she has been through a lot and is really a strong woman and a great role model.
The chemistry between Josh Duhamel and Julianne Hough is amazing and they really draw you into the story line. They did a fabulous acting job in this movie and the scenery & photography is beautiful. Really a nice piece of work for sure!
I was really impressed with this movie from start to finish and it's one that I enjoyed watching with hubby on our "movie date night" and I have to admit, he enjoyed watching it too! A great addition to your video library for sure!

Disclaimer: Shelly Hill has personally reviewed the product listed above. Shelly has not received any monetary compensation for her review. Shelly did receive a free product to try out so she could evaluate and use it for her review. Her thoughts & opinions in this review are unbiased & honest and your opinions may differ. Two Classy Chics is not responsible for delivery of any giveaway items won from this blog. We are not responsible for injury or mis-use of any products won from the Two Classy Chics Blog. Please read our Terms of Service & Disclaimer Policy before entering our giveaways. This giveaway is not affiliated with Facebook or Google+ in any way. Thanks!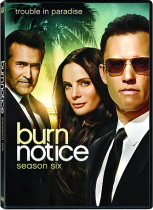 I have been a big fan of Burn Notice on the USA Network since day one and have faithfully watched every season. Matter of fact, it's one of the few shows that are currently on TV that both my husband and I can watch together!
Well guess what? Burn Notice: Season 6 is coming to DVD and will be available for purchase starting on June 11th, 2013. Do any of you watch Burn Notice? Any of you big fans of the hit TV show?
Synopsis: There's trouble in paradise for former CIA operative Michael Westen (Jeffrey Donovan) and his cohorts, and the streets of Miami are hotter – and deadlier – than ever before in the action-packed, adrenaline-charged sixth season of Burn Notice! In hot pursuit of his old nemesis, Michael must take down Anson Fullerton (Jere Burns) and find a way to free Fiona (Gabrielle Anwar) from prison, where she is being targeted by a murderous foe. Michael goes full force to save Fiona as he takes on cold-blooded assassins, diabolical drug cartels, uneasy alliances, and explosive danger at every turn, until an unthinkable tragedy leaves him reeling and rocks his team to the very core.
Twentieth Century Fox Home Entertainment – Twentieth Century Fox Home Entertainment, LLC (TCFHE) is a recognized global industry leader and a subsidiary of Twentieth Century Fox Film, a News Corporation company. Representing over 75 years of innovative and award-winning filmmaking from Twentieth Century Fox, TCFHE is the worldwide marketing, sales and distribution company for all Fox film and television programming, acquisitions and original productions as well as all third party distribution partners on DVD, Blu-ray™, Digital Copy, Digital HD™, and VOD (video-on-demand). Each year TCFHE introduces hundreds of new and newly enhanced products, which it services to retail outlets from mass merchants and warehouse clubs to specialty stores and e-commerce throughout the world.